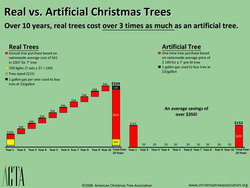 The pressure to spend money during the holidays is intense, even when difficult economic conditions are swirling about. One way to minimize stress during the holidays and save money in the long run is to purchase an artificial Christmas tree
Los Angeles, CA (PRWEB) December 1, 2008
Unprecedented economic uncertainty this holiday season is forcing consumers to spend their money in much different ways. When considering the purchase of a Christmas tree this year, the facts are clear - artificial Christmas trees save real money over the annual purchase of fresh Christmas trees, according to the American Christmas Tree Association (ACTA).
Based on a 10-year analysis, the purchase of a single, pre-lit artificial Christmas tree costs 70 percent less than the purchase of 10 real Christmas trees over the same period. That means that a real Christmas tree costs more than three times as much as an artificial tree. With many consumers keeping their artificial tree for 20 years or more, the savings are even greater.
"The pressure to spend money during the holidays is intense, even when difficult economic conditions are swirling about. One way to minimize stress during the holidays and save money in the long run is to purchase an artificial Christmas tree," said Jami Warner, Executive Director of the ACTA.
"Many artificial Christmas tree options and price points are available, but they all have something in common - they can be used over and over again, saving families' money every year. Indeed, financial experts are recommending that cost-conscious families consider buying goods that can be reused, and artificial Christmas trees fit the bill around the holidays when every penny counts. They may cost a bit extra initially, but the savings made up over time can be substantial," Warner said.
Warner urged consumers to consider the cost of live Christmas trees that continue to escalate in price. In some cases, live Christmas trees can easily cost more than $100, and that's money families are throwing out each year after the tree dries up and is left out on the curb. In addition, artificial Christmas trees are often more uniform and attractive in appearance than live trees, allowing homeowners to decorate with style and ease.
"With an artificial tree, there is no need to strap a large live tree across the top of the family automobile, water the tree each day and worry about it drying out before the holiday season passes. And we all know that watering a Christmas tree is a thankless task. First you have to remember to do it. Then you have to crawl under the tree and pray that you don't spill a gallon of water on your hardwood floor or soak your carpet," Warner added.
Artificial Christmas trees have recently been shown to be better for the environment, reducing global warming and pollution compared to the production and consumption of fresh Christmas trees. Families can help the environment, save money in the long run and enjoy the holidays with a picturesque artificial tree in place of a live one.
For more on the analysis, or to view or download the summary chart of this analysis, visit the ACTA website
About ACTA:
The American Christmas Tree Association is a non-profit organization whose mission is to provide the public with the most current and factual data to help consumers make well-educated decisions about Christmas trees. For more information, please visit http://www.christmastreeassociation.org.
###