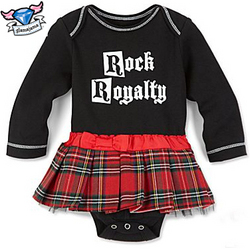 ...the United States has one of the highest preterm birth rates. Glamajama's mission is to raise awareness to this frightening statistic...
Austin, TX (PRWEB) December 8, 2010
Celebrity favorite and children's wear industry leader, Glamajama, is celebrating the Christmas 2010 gift giving season with a "Gift of Glam to Preemies" campaign. For each new baby gift purchased December 8-31, 2010 at the company's official website, Glamajama will donate one of their hip baby clothes to the March of Dimes. Among the items included in the holiday donation campaign are the company's rock n' roll inspired "Rock Royalty" skirted creeper featured in Parenting magazine and their best selling "mommy" shirt worn by celebrities such as Halle Berry, Lisa Rinna, and Britney Spears.
Designer and CEO, Heather Schuck, explains Glamajama's "Gift of Glam to Preemies" mission, "The holidays are about celebrating blessings. As a mother of three, I believe children are our greatest blessings. Unfortunately, more than 20 million babies are born premature each year which can lead to a lifetime of health setbacks. Even worse, it's the number one cause of infant death the first month. The March of Dimes works tirelessly to raise funds to help improve the health of babies, however, the United States still has one of the highest preterm birthrates. We scored a "D" on the 2010 Premature Birth Report Card, with my home state of Texas receiving an "F". In a nation as great as the United States, this is just unacceptable. Glamajama's "Gift of Glam to Preemies" mission is to help raise awareness to this frightening statistic and lift the spirits of the families who are currently dealing with the health challenges of premature birth."
About Glamajama: Established in 2003 by first time mom and accidental entrepreneur, Heather Schuck, Glamajama is a leading children's lifestyle brand with national distribution in retailers JCPenney, Target, and Sears in addition to the company website, glamajama. The baby-inspired and mom-run company is a celebrity favorite and has been featured in several high profile media outlets such as Oprah, the Today Show, USA Today, and Extreme Makeover: Home Edition. For more information, visit glamaLIFE, the online mom community website for young, hip moms who celebrate the glamaLIFE philosphy, "embraceLIFE. getINSPIRED. beGLAM."
About March of Dimes: The March of Dimes is the leading nonprofit organization for pregnancy and baby health. With chapters nationwide, the March of Dimes works to improve the health of babies by preventing birth defects, premature birth and infant mortality. For the latest resources and information, visit marchofdimes.org/fight or nacersano.org.
###