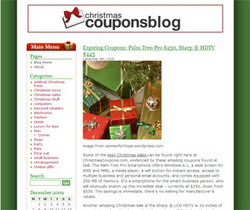 Keeping pace with the current spending...mindset of consumers, Christmas Coupons has uploaded hundreds of new coupons
San Francisco, CA (PRWEB) July 3, 2010
Christmas Coupons, a premiere online source for the best coupons and Christmas deals, has uploaded hundreds of new July 4th coupons to offer sales by name-brand retailers. Anna Reed, spokesperson for Christmas Coupons, says, "Christmas Coupons is dedicated to bringing the best deals to consumers, and for this July 4th, we've got some of our best computer deals, kitchen appliance coupons, and savings on jewelry."
Historically, retailers have used the July 4th weekend to offer steep promotions. According to a June 28th Business Week article, income outgrew spending in May, giving consumers the ability to simultaneously save and spend. According to this article, surveyed economists agree that spending will increase at a 3% rate in the April-through-June period, and at 2.6% in the second half of the year.
Wages and jobs have been on the rise since May. Despite the European debt crisis, US consumer confidence soared in June to its highest level since January 2008, assured by the 2.7% first quarter growth rate in 2010.
Due to this welcome change, Christmas Coupons speculates that this could be their biggest shopping quarter in recent history. "Consumers may be less cautious now than in previous months, yet they still want to keep money in the bank. They will be looking for deals on their favorite items," states Ms. Reed.
To keep pace with the current spending and saving mindset of consumers, Christmas Coupons has uploaded hundreds of new health, beauty, and photography coupons.
This July 4th marks the beginning of the fourth quarter in the fiscal year 2010, and with a 1.1% increase in durable good purchases in June according to the Business Week article, consumers will be purchasing items of greater value and longevity, like automobiles, appliances and clothing.
Ms. Reed emphasizes the importance of using coupons and deals to shop, since these help consumers to save money when purchasing necessary items, "…which is why Christmas Coupons has uploaded hundreds of deals for your car or truck, discounts on insurance and clothing coupons."
For more information, please visit http://www.christmascoupons.com
About Christmas Coupons
Christmas Coupons offers the best coupons year round with coupons and online discount deals for all the favorite online stores. With their great Christmas discount offers, Christmas deals, and Christmas sales, ChristmasCoupons.com has useful coupon promotional codes and best new deals all year round.
###