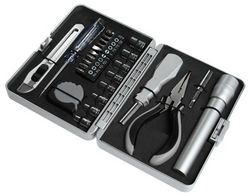 (PRWEB) December 2, 2007
Online gift retailer dotcomgiftshop.com has launched its range of Christmas Gifts for Men in time for Christmas 2007.
Buying gifts for men at Christmas often poses problems, as not only is it difficult to cater for the proverbial 'man who has everything', but the Christmas shopping crowds in the high streets and shopping centres can make gift buying seem more like armed combat than festive fun.
However, dotcomgiftshop.com offers a solution on both counts, because not only is there a wealth of Christmas gifts for men available via the website, but all the presents can be purchased online, from the comfort of the consumer's own home, and delivered direct to their front door.
Featured in the Christmas Gifts for Men range from dotcomgiftshop.com are unashamedly masculine presents, such as the Blokes Silver Tool Kit in Metal Box, the Cork Screw Key Ring or the Key Bottle Opener.
But also available are gifts that will appeal to the big kid in any man - for instance the Shark Radio Controlled Helicopter, the State of the Art Spud Gun or the Jim'll Fix It Soap On A Rope.
For the particularly competitive among the male species, dotcomgiftshop.com offers fun and games in the form of gifts such as The Adult Drinking Games Compendium, or the 1000 Puzzle Sudoku Book.
And of course there are more unusual Christmas gifts available - for instance, the Balloon Modeling Kit, the 'Mr Spuck' LED Blue Trekker Bath Duck which glows in the dark, or even a unicycle.
There are many more Christmas gifts for men available from dotcomgiftshop.com, as well as gifts for her, gifts for kids, Christmas trees and Christmas decorations.
To view the full Christmas Gifts for Men range from dotcomgiftshop.com, see http://www.dotcomgiftshop.com/shopdisplayproducts.asp?id=158&cat=Christmas+Gifts+for+Men
###