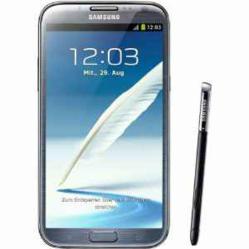 (PRWEB) December 03, 2012
Samsung has recently released the Galaxy Note II on the 26th of September, 2012. It is now available at all the major phone carriers for Christmas 2012. The Galaxy Note ventures into a new class of phones that are being categorized as "phablets". It carries the complete functionality of a phone, and has the added features and processing power that is comparable to a tablet (Source: en.wikipedia.org/wiki/Samsung_Galaxy_Note_II). Hottydeals now recommends Samsung Galaxy Note II for this Christmas 2012.
Details about Samsung Galaxy Note II for Christmas available at hottydeals.com/samsung-galaxy-note-2/.
The Galaxy Note 2 differs only slightly in looks from the original Galaxy Note. The dimensions have been changed to make it slightly smaller, and the back of the phone now has a more pronounced curve to fit comfortably in the palm of the hand. The main differences are obvious in the software updates and the improved stylus technology.
The Galaxy Note phone is the first smartphone to incorporate a dedicated stylus, called the S pen, into the edge of the device. The stylus can be used for handwritten memos, or producing colorful sketches. The S Pen in the Note II is redesigned to have a more ergonomic feel, and the pen flow technology has been improved so that natural handwriting can be performed with ease. The Galaxy Note II also has a more powerful processor and longer battery life. It packs a 1.4 GHz quad core processor that runs off of Android's 4.2 Jelly Bean system. The 3100 mAh battery has a capacity of just over ten hours of talk time.
The Galaxy Note II may be an appealing option for a person that is interested in replacing their phone and tablet to only one device. People who enjoy doodling, drawing, graphics, and watching movies regularly on their phone can appreciate the large 5.5 inch screen size and the responsiveness of the stylus. The phone is considered a bit large for some people to carry around, but it can still fit in larger pockets. It also fits well in a purse or briefcase.
Details about Samsung Galaxy Note II for Christmas available at http://hottydeals.com/samsung-galaxy-note-2/.