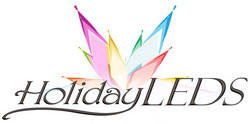 If Fairbanks replaced its incandescent lights with LED Christmas lights the amount of power consumed would be de minimus and we'd like to help the City make the switch by offering to donate four cases of lights to the City
Jackson, MI (PRWEB) June 29, 2008
HolidayLEDs.com an online retailer specializing in LED Christmas lights and LED decorative lighting is offering to donate energy-efficient LED Christmas lights to the City of Fairbanks, Alaska to help the City in its efforts to reduce its energy consumption.
"I read an article in the Fairbanks Daily News-Miner about the Cities' efforts to reduce its energy consumption and decided we would offer to help," said Philip C. Curtis, President of HolidayLEDs.com. In two recent articles the Daily News reported that the city spent over $880,000 dollars on electricity each year. The city engineer, Mike Schmetzer, and his energy task force were reported to have set out to figure out how the city could reduce its energy costs. Some of the proposed solutions of the task force including turning off non-critical streets lights and eliminating Christmas light displays.
"Its commendable that the City of Fairbanks is taking a serious look at its energy consumption--we should all be doing this--but Christmas lighting displays are such an important part of the Christmas celebration it would be a shame if the residents of Fairbanks had to eliminate this tradition," Curtis added. LED Christmas lights are 80-99% more efficient than standard incandescent lights and substantially reduce the cost of operating a holiday display. "If Fairbanks replaced its incandescent lights with LED Christmas lights the amount of power consumed would be de minimus and we'd like to help the City make the switch by offering to donate four cases of lights to the City," Curtis explained.
"After reading the first article in the Daily News I emailed the Mayor Strle about the benefits of LED lighting, but after reading the second article I decided we could do more to help," Curtis added. Curtis' company shipped a substantial number of LED Christmas lights to the State of Alaska in 2007. "The residents of Alaska have been good customers to us and we are glad that this opportunity arose to help the citizens of Fairbanks," Curtis concluded.
For more information about HolidayLEDs.com and energy-efficient LED Christmas and decorative lighting visit http://www.holidayleds.com.
###