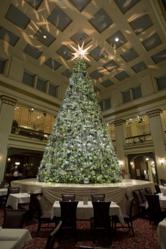 After only 1,000 hours of use, LED bulbs save over 15,000 watts in energy, with an average cost savings of $2,300.
Alpharetta, GA (PRWEB) September 27, 2011
Christmas Lights Etc., a leading US distributor of Christmas lights, is continuing to expand its selection of commercial decorating products using LED lights to help businesses, cities and governments go green. In the past, commercial holiday lights came with a cost to both taxpayers and the environment. With energy saving LED lights, 80-90% savings can be experienced when compared to holiday lighting using incandescent lights.
Committed to reducing environmental impact and keeping operating costs to a minimum, Christmas Lights Etc. has remained on the forefront of offering greener products with low wattage LEDs. 2010 marked the first year that LED Christmas lights outsold incandescent lights at Christmas Lights Etc. William Hale, CEO at Christmas Lights Etc., announced Monday, "With our increased selection in LED products, converting to LED Christmas lights can now be done large scale."
After reviewing sales and customer requests, Christmas Lights Etc. has selected its 2011 LED commercial decorations product line to address the needs of commercial clients. One hot item available in LED lights is the Sequoia Fir prelit commercial wreath, featuring crush and fade resistant forest green needles and 2 ply PVC for commercial use. The 60" prelit Sequoia Fir wreath lit with 5MM warm white LED lights will save 132 watts per wreath over a similar wreath using incandescent lights. Commercial Sequoia garland lit with LED lights allows up to 43 sections of 9' garland to be connected, whereas only 4 sections of garland lit using clear incandescent mini lights can be connected together. Always popular, stars and snowflakes, wireframe motifs, and even falling icicles are now all available in LED lights.
To help consumers better understand the advantages of LED Christmas lights, several online learning tools are available at Christmaslightsetc.com, including an LED Christmas Lights Guide and a Commercial LED Lights Guide. Christmas Lights Etc. puts a strong focus on offering the best in quality LED lights, committed to ensuring durable construction of each bulb. LEDs are tested to run up to 65 times longer than incandescents and always remain cool to the touch, so they can be used safely year after year. LED bulbs at Christmas Lights Etc are made of an almost unbreakable epoxy plastic, giving bulbs added durability. Bulbs distributed by Christmas Lights Etc. are also nickel-plated to prevent corrosion.
Standing behind this commitment, Christmas Lights Etc is a proud partner of Energy Star. Energy Star products must meet strict standards for energy savings and are proven to save consumers money on their energy bills while contributing to cleaner air and protecting health. Last year alone, Americans, with the help of Energy Star, saved $18 billion on their energy bills while reducing greenhouse gas emissions equal to 33 million vehicles.
Mike Streb, Director of Sales at Christmas Lights Etc., breaks the energy savings down as, "If a 35' Giant Everest Fir tree is lit with 5MM LED lights, only 3,663 total watts are used compared to the incandescent Everest which uses 19,080 watts. After only 1,000 hours of use, LED bulbs save over 15,000 watts in energy, with an average cost savings of $2,312.55." Among notable customers of Christmas Lights Etc to upgrade to the Giant Everest with LED lights are Macy's and Six Flags, and 2012 marks the year the University of Alabama will replace their Giant Everest Fir tree with the LED version. The environment continues to benefit from such large scale improvements; aside from the savings in energy and power, the long life span of LED bulbs means less waste and garbage in the landfills.
While Christmas Lights Etc will continue to offer the largest selection in Christmas lights, including a vast selection of incandescent lights, rope light, and novelty lights, LED Christmas lights are becoming increasingly more popular, and selection will only continue to increase. Commercial buyers can feel satisfied they are truly being more ecologically conscience when buying LEDs, as well as smart with their budget. Mike Streb advises, "LEDs are an investment to a better future, with great savings."
###