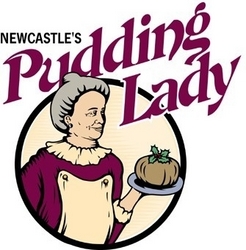 Finally, Christmas puddings just like Gran used to make.
(PRWEB) October 28, 2010
With effect from 15 October 2010, Australian producer, Newcastle's Pudding Lady, will be offering a new free 'token' for putting in to every family sized Christmas pudding.
There's a story behind the new free offering.
Christmas puddings, also known as plum puddings (because of the abundance of prunes), originated in England. It is traditionally made at least five weeks before Christmas in order to let the xmas puddings "age". That day was often deemed "Stir-up Sunday," and each family member or child in the household gave the pudding a stir and made a wish.
Christmas Puddings should be rich and heavy with dried fruits, with or without nuts. While it was traditionally boiled in a pudding cloth, it is now often steamed in a basin in order to save time, but the result is never as dense. The pudding is very dark, almost black, and is saturated with brandy, dark beer, or other alcohols.
Many households stirred silver coins (for wealth), a button (for the bachelor), a silver thimble (for thrift), a ring (for marriage), or other tokens into the mixture. When served, whoever got the lucky serving, could expect the attributes of the charm for the coming year. When silver coins were not as readily available, the practice ended because people feared putting alloy coins in their pudding.
This Christmas, to celebrate their long established passion for preserving the pudding, Newcastle's Pudding Lady is reviving this "charming" xmas pudding tradition. Every family sized pudding sold this Christmas will include an offer to receive a genuine pudding token which can be kept and reused, year after year.
Consumers can choose from a coin token, a ring token, a thimble token or a button token, any or all of which can be added to the family's Christmas puddings.
While some families still prefer home cooked puddings, it is comforting to know that companies such as Newcastle's Pudding Lady still take the time to hand make their Christmas puddings with the skill and dedication that Grandma invested.
# # #