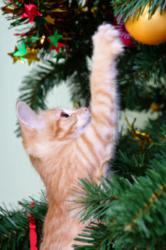 "Allergy sufferers can look forward to breathing easier this holiday season by taking some simple steps to rid their indoor environment of dust, mold and other irritants," said Jami Warner, Executive Director of the American Christmas Tree Association.
Los Angeles, CA (PRWEB) October 13, 2011
While the holidays are a time for rejoicing, for those who suffer from seasonal allergies, it can also be a time to take some simple precautions that will lessen allergy symptoms.
According to the Asthma and Allergy Foundation of America (AAFA), the indoor environment during the holidays can be especially challenging. Dust, pollen, fireplace smoke and allergies to some indoor plants and trees can cause irritation. When taking Christmas ornaments out of storage, make sure to thoroughly dust and clean before using. Determine if the the chimney needs to be cleaned and the fireplace and flue are clean and in good order. Also check heating vents for dust and replace filters in the furnace.
And when it's time to put up the family Christmas tree, the AAFA has the following recommendations:
"If a live evergreen tree is a tradition you cannot live without, the following tips should help make this year's tree a treasure rather than trouble. Wipe the trunk thoroughly with a solution of luke warm water and diluted bleach (1 part bleach to 20 parts water) to eliminate any mold. Some evergreens, particularly junipers and cedar, may be pollinating even in winter look for a yellowish tinge on the trunk and needles. Before bringing the tree inside, use a leaf blower (in a well-ventilated area away from the house or garage) to remove visible pollen grains.
Artificial Christmas trees are suitable substitutes for live trees as long as they're not coated with sprayed-on "snow." Such additions (including pine-scented sprays or oils) can aggravate asthmatic or allergic symptoms in some people."
Jami Warner, Executive Director of the American Christmas Tree Association adds that both live and artificial trees can be allergy culprits but taking precautions such as those recommended by the AAFA can help make the holidays bright and sniffle-free for everyone.
For more information, visit http://www.christmastreeassociation.org.
About the American Christmas Tree Association (ACTA): ACTA is a non-profit education association established to provide consumers with factual information about Christmas trees.
###