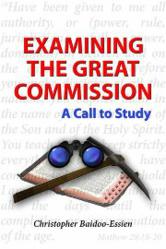 The requirement of faith according to
Hebrews 11:6 is not a limitation that put God in a box called faith.
Puyallup, WA (PRWEB) July 11, 2012
One of the key discussions in Baidoo-Essien's new book 'Examining the Great Commission, A Call To Study' is the discussion on faith and what ones learns from the heroes of faith listed in the eleventh chapter in the book of Hebrews of the New Testament. In this same chapter of the book of Hebrews in the New Testament, the bible teaches that faith is not just an essential part of Christianity but a requirement from all those who seek to have a relationship with God. To which end the author of the book of Hebrews states in essence that 'no one can please God without faith and that anyone who searches God must have faith that God exists and He rewards those who look for Him'.
So then what is faith? How does one identify person of faith? Or what does one look for when looking for persons of faith? Or as on reads about people of faith, what does one walk away with that makes one realize that the person one read about was a person of faith? Whether one personally knows or knew of the person of faith in reference or just reading about such character, what makes one conclude that indeed such person learned about was indeed a person of faith?
These and many in-depth search and probing questions are raised by Baidoo-Essien in the book 'Examining the Great Commission, A Call To Study'. To address these questions, Baidoo-Essien digs deep into the scriptures and the lives of the heroes of faith to address most of these probing questions. His sincere efforts and attempts to answer these questions led to a discussion full of thought provoking insights and a lot of 'ah ha' moments. 'Examining the Great Commission, A Call To Study' is a great read, spiritually uplifting and a resourceful addition to any library.