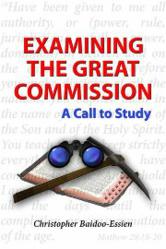 ... Thus, as we go about our daily lives, we take hold of the opportunities that come our ways and reach out to the world that does not know our King. We do so with the King's message of forgiveness, repentance, and reconciliation, the gospel ...
Puyallup, WA (PRWEB) April 27, 2012
The three synoptic gospels contain a statement about the Great Commission. In examining these statements in his new book entitled 'Examining the Great Commission, A Call To Study', author Baidoo-Essien takes a critical look at the command to '… go make disciples …' In Matthew's account of the Great Commission statement, Matthew breaks down his record into two major sections, a section about the authority of Christ and a section about orders to the disciples or apostles of Christ to go make disciples of all nations and retain those disciples won. Most Christians dub this second part of Matthew's account 'teach – baptize – teach'.
It is in this second part of the Great Commission statement that we find the command for growth and multiplying to the apostles who were seeing Jesus in the physical form for the last time. According to Luke's account in Acts the first chapter, Luke records that the disciples were still questioning Jesus if he was going to restore the kingdom to Israel now that his is resurrected from the dead. Instead on their last meeting with Jesus, the apostles received the instructions to go and make disciples in all nations. This might have been a bit awkward to these native Jews who perhaps have not had much contact with Gentiles except for Roman soldiers and Greek proselytes. This meant that barriers have to be broken down and new relationships will have to be built through the teachings of Christ which will be new to either side and require great adjustments from both the Jews and Gentiles.
Thus in the new book 'Examining the Great Commission, A Call To Study', Baidoo-Essien points out that though today's Christians like the apostles need to go in order to make disciples, the force of the command lies with 'make disciple' in the original language. Baidoo-Essien further notes that emphasizing 'go' gets us to go, yet it often makes us focus on the results and it tends to make that task a brief one. On the other hand, when we place the emphasis on 'make disciples' instead of 'go' which is implicit in the command any way, it gives us a more permanent sense required for the task because it requires more of our time and resources that leads to building a more permanent relationship.