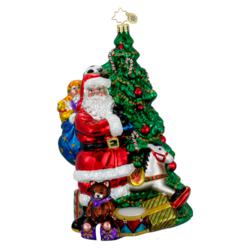 Christopher Radko Gallery is thrilled to represent the 2012 Christopher Radko ornament collection. Our favorites include the Radko Classic Carols Collection and the Radko Fanciful Tales ornaments inspired by classic children's fairy tales.
Duluth, GA (PRWEB) July 30, 2012
Presenting the 2012 Christopher Radko Ornaments from Christopher Radko Gallery. The new Christopher Radko 2012 Collection of European glass ornaments and collectible holiday decor items are now available from Christopher Radko Gallery, a leading authorized e-commerce Christopher Radko retail specialist. The 2012 Christopher Radko Collection features the largest offering of collectible glass Christmas ornaments in years with over seven hundred new Radko ornament designs for the upcoming holiday season.
This magnificent collection of 2012 Christopher Radko ornaments is also available at the Christopher Radko Gallery located at 3129 Main Street, Duluth, Georgia.
The new Christopher Radko ornaments include Radko Charity Awareness ornaments, Radko Limited Edition ornaments, Radko Gift Store Exclusive ornaments and classic Christopher Radko Celebrate the Season ornaments as well as the much anticipated Classic Carols Collection of twelve new Christopher Radko collectible glass ornaments inspired by favorite Christmas carols. This limited edition Christopher Radko Classic Carols Collection of ornaments is available in a set and each ornament is also offered individually. 2012 Radko best selling ornaments from this holiday collection of unique Christmas collectibles are sure to be the Oh Little Town of Bethlehem ornament, the O Come All Ye Faithful ornament and The Twelve Days of Christmas ornament.
2012 Limited Edition and Gift Store Exclusive Radko ornaments are joyous mix of traditional Christmas and holiday favorites with festive Santa ornaments dressed in the finest holiday attire, fun snowmen ornaments and classic Christmas tree ornaments ready to adore your Christmas tree this holiday season. All Christopher Radko Limited Edition 2012 ornaments are numbered on the Radko tag and limited in production. Radko Gift Store Exclusive ornaments are only available through exclusive holiday boutique and gift stores. Both Radko Limited Editions and Gift Store Exclusives represent some of the most sought after and collectible Christopher Radko ornaments year after year.
Christopher Radko has a long history of "giving back" with new holiday designs of charity ornaments each year. The new Christopher Radko 2012 Charity Awareness ornaments continue support of breast cancer with the Pink Power Walker Breast Cancer ornament, AIDS with the Claus for a Cause AIDS Awareness ornament, Alzheimer's with the Purple Ribbon Pal Alzheimer's Awareness ornament, heart disease with the Heartfelt Friendship Heart Disease ornament and Veterans' awareness with the We Salute You Veterans' Awareness ornament to name a few. With the 2012 Christopher Radko Mid-Year ornament introduction, the Officer Nick ornament was introduced added to support police departments nationwide.
"Each year, all of our Radko specialists at Christopher Radko Gallery look forward to receiving the new Christopher Radko ornaments for the upcoming holiday season," states Co-owner, Jana Contardi. "As we open each ornament, we marvel at the attention to detail and the quality of these special Christmas collectibles," adds Co-owner, Jennifer Cook.
Christopher Radko Gallery is an authorized Christopher Radko retailer. Christopher Radko ornaments are available year-round on http://www.christopher-radko.com. Radko ornaments are also available in our Christopher Radko Gallery located at 3129 Main Street, Duluth, Georgia starting September 25th through the end of the year.
Christopher Radko Gallery is a division of Peace, Love & Decorating located on historic Main Street in downtown Duluth, Georgia just minutes north of Atlanta. In the Atlanta area? Please visit this fantastic collection of Christopher Radko ornaments and beautiful display of holiday decor.