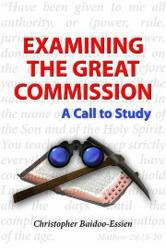 Knowing the authority by which one performs an action adds credibility to the actions taken.
Puyallup, WA (PRWEB) March 30, 2012
The new book 'Examining the Great Commission, A Call To Study' by author Christopher Baidoo-Essien is currently available for purchase online at the publisher's website – AuthorHouse. The book is also available for purchasing at Amazon and Barnes & Noble. The book is available in three formats - hardcover, softcover and ebook. Copies of the hardcover and softcover formats can be purchased from the publisher and the retailers mentioned above. The ebook can be purchased and downloaded from the publisher's website. Barnes & Noble Nook users also have the option to purchase the electronic format of the book. The book is available in bookstores as well.
In this new book 'Examining the Great Commission, A Call To Study', Baidoo-Essien adds a fresh and compelling voice to the conversation the Christian's primary mission which consists of making and retaining disciples. The unique perspectives offered in 'Examining the Great Commission, A Call To Study' takes on some of the serious and challenging issues relating to authority and baptism offering deep, insightful and thought provoking analysis. The book notes that though God is not limited, in the Great Commission statements we find specified and limited tasks for the followers of Christ to undertake. These tasks include making disciples by preaching the gospel of Christ and baptizing the disciples who accept the gospel into the godhead. It also notes that Christ commands that the disciples won are to be maintained through what He has commanded only.
This new book is a good read and a great pick up. It has great material for the Christians and the non-Christians alike. It is an easy and compelling read that engages the reader from the first page to the last. Baidoo-Essien did a great job making the technical and complex subjects easy to understand and appreciate by one who is well vexed in the bible as much as one who lacks depth in the bible or has no background at all in the bible. This book is a great addition to any library.