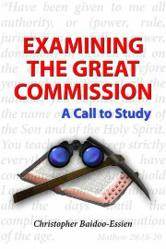 ... the tomb was nothing but empty. Empty because
it had had only one dead body in it and that body was gone.
Puyallup, WA (PRWEB) June 13, 2012
Much attention has been given to mostly the events leading to the arrest, trial and the crucifixion of Christ Jesus. Much of these attentions often focus on the people involved such as Judas who betrayed Jesus to the then Jewish leaders, those leaders include the Chief Priest, the Pharisees and Sadducees who could not get on the same page about anything on any single matter. But these leaders found Jesus controversial enough to bring them into agreement to condemn him to death. And yet, regardless of the fact that they could not find any evidence to support their foregone conclusion even before the trial had taken place, these leaders agreed to condemn. Pilate has also gotten his fair share of notice for not setting Jesus free for the lack of evidence.
While all of these people played important roles in the events leading to the death of the Savior, Matthew's account of these events also include some minor details that often do not get much attention. Some of these minor events include the timeline of Jesus' death, how little time the disciples had to work with after Christ was crucified – going to Pilate to request the body for burial, getting the body down and rushing to bury the lifeless body of the Lord given that the Sabbath day was rapidly approaching... All these details have cultural significance that to the casual observer looks chaotic and desperate, but once close attention is paid to these details one sees God's hand working things to perfection and to His will. Baidoo-Essien takes note of some of these things in his new book "Examining the Great Commission, A Call To Study."
Also noted in this new book, 'Examining the Great Commission, A Call To Study' is the significance of the details provided by Matthew that the tomb Jesus was buried in was a new tomb. Matthew records that a great stone was rolled to cover the door which might give the impression that the tomb door to cover the tomb was not fully done. Baidoo-Essien's new book observes the importance of this minor detail to the resurrection of Christ which the Apostle Paul said is a critical piece of the gospel message that saved men in the apostolic times and still saves man today.