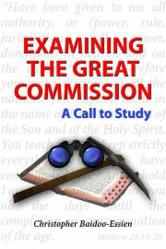 ... the Law, the Prophets, and the Psalms were ... authentic, and well-established sources of authority. If what Jesus was instructing to be done contradicted that which is known in any of these sources, they could by no means take Him seriously.
Puyallup, WA (PRWEB) June 27, 2012
As Jesus gave his final instructions to His disciples in the Great Commission statement, he instructed them to go make disciples of all nations. Therefore a reasonable and sensible question that one might ask is 'what were the apostles or disciples to go make disciples with?' In other words, as Jesus sent his disciples to go make disciples of all nations, how did the apostles and the disciples win the souls they converted? Did they have a message that they used and if so what was it? Was there a specific message and if there was such a message, does God have a purpose for desiring that disciples be made with that message? In essence how did Jesus expect His followers to go win other followers?
How one resolves these important salvation questions deserves careful and thoughtful considerations as well as study. To address these questions on his part, Baidoo-Essien in the new book "Examining the Great Commission, A Call To Study" looks at how the apostles made disciples by considering the Great Commission statements in the gospel accounts, what the apostles and the other disciples preached to their audiences in their evangelism efforts such as seen in the second chapter of the book of Acts, and what the apostles expressly taught as the Apostle Paul instructed the Christians in Corinth in the fifteenth chapter of his first letter to the group.
In his efforts, Baidoo-Essien highlights the gospel message or the message of pardon and forgiveness of sins due to the death, burial and resurrection of Christ which Mark and Luke in their version of the Great Commission statement state as the message to be preached or taught to all nations. As this message was taught, the recipients of the message needed to understand what the message meant to their salvation and so the Apostle Paul dealt with that in his epistle to the Christians in Rome. Baidoo-Essien deals with the significance of the gospel message and its implications to the sinner in this new book.