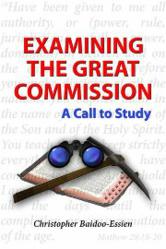 It is important to keep in mind that the Lord directed the activities of the church. To understand this is to understand that the church was working directly under the authority of Christ.
Puyallup, WA (PRWEB) August 31, 2012
In the gospel accounts Matthew, Mark, Luke and John one reads about Jesus giving instructions to his disciples after his resurrection from the dead just before he returned to heaven. Included in those instructions was that the disciples remain in Jerusalem until they receive the promised Holy Spirit. But the very final words of Jesus to his disciples, also termed the Great Commission, just before he disappeared in front of the eyes of the disciples into the clouds as recorded by the gospel writers are the ones Baidoo-Essien has analyzed in his recently released book.
As one reads these statements of the Great Commission one finds specific duties outlined by Jesus for his disciples or apostles if you like, as the tendency is to assume that Jesus was only addressing the eleven apostles that were still alive when he resurrected. Judas the twelfth apostle had taken his own life. The duties in the Great Commission statements boil down to making disciples with the good news about the conquest of death by Jesus Christ and how God is using that good news to reconcile and forgive the sins of all people, baptizing those who accept the good news and teaching them what Christ had commanded the apostles. The discharge of these duties is what one reads in the book of Acts which describes the activities of the apostles and other believers preaching and teaching the good news of Christ.
As all of the apostles and the immediate followers of Jesus Christ have been dead for almost two thousand years now many have raised the question "Who is responsible for the Great Commission today?" or "Is the modern day Christian responsible for fulfilling the chores in the Great Commission?" In "Examining the Great Commission, A Call To Study", Baidoo-Essien takes a look at this question and attempts to address it by looking at the Great Commission statement itself, the individuals involved in making disciples in the book of Acts and the apostolic instructions to their fellow Christians.