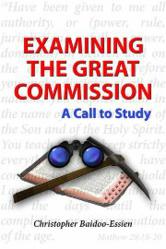 They remembered Jesus who saw ruggedness yet care for them individually.
Puyallup, WA (PRWEB) August 15, 2012
Jesus' last words to His disciples have been appropriately entitled the Great Commission by scholars. It is in these last words of Jesus, just before he vanished into the clouds in front of several witnesses, we find orders to his disciples on what to do while he was gone. According to these orders in the recorded account of the Apostle Matthew, the disciples were to go make disciples of all nations, baptize those won into the godhead and retain those won through the teachings of Christ only. As Baidoo-Essien examines these last words of Jesus, he asserts that without the Great Commission the Christian has no authority to make disciples.
By this assertion then Baidoo-Essien takes a look at the full spectrum of God plan of redemption for man. Baidoo-Essien examines the source of authority from which Christians are commissioned to reach out to the world. He examines how they are to go about reaching out to the world and the manner and message by which they are to reach out to the world. He also examines what the disciples were to do and did with the disciples won for Christ their LORD. In looking at what is done with the disciples won, Baidoo-Essien examines the role of the church of Christ in making and retaining disciples. He also looks at the importance of the church of Christ to God's plan of redemption.
The highly distinct and attractive cover of the book is eye-catching. The more than 380 page book engages the reader, it reads well and holds the reader's attention even in the more technical and difficult sections of the book. The book personalizes biblical events and places the reader in the midst of those events. This makes the reader share in the experience, relive the varying emotional swings of the biblical characters and rethink the choices and decisions made in those events. The Christian reading the book is compelled and challenged to seriously reevaluate the purpose of his or her calling as a Christian. 'Examining the Great Commission, A Call To Study', focuses the Christian on the chores in the Great Commission. It makes an excellent contribution to the understanding and applications of the Great Commission. This book is complex enough to engage and keep the scholar thinking. And yet the details provided are have been made simple and readable to the non-Christian who might be remotely interested or curious about Christianity to grasp and appreciate the discussions in the book.