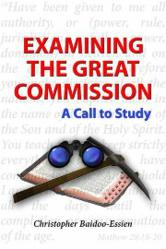 Jesus
commanded baptizing newly made disciples and Peter ordered it
done. Who is saying anything different?
Puyallup, WA (PRWEB) May 16, 2012
Baptism for one reason or another has become a ping-pong like topic in Christendom today in such a way that Christians from all walks of life and denominations toss the need for it and its importance to the salvation of Christians back and forth. Thoughts and teachings on the topic varies wildly with some claiming it is important to the salvation of the Christian while others claim it is not all that important. Some claim the Christian needs to be baptized after he or she has been saved as a public testimony of that faith. Yet still, others claim baptism comes before one is saved and the argument goes on and on. We run into even more complex challenges about the role of baptism in the Christians life or the life of the sinner becoming a Christian when the encounter of Jesus and the thief on the cross is thrown in the mix. Moreover, the role of baptism in the conversions in the book of Acts is often used to argue for or against baptism depending on who is making the point and whether that conversion included baptism or not. Thus the role of baptism has become a topic that either we do not understood today or we just do not appreciate its significance to the salvation of the Christian as God intends and Jesus instructed.
With all the different positioning or posturing we take on such an important topic as baptism, will it not be great to know for sure what Jesus, the author and founder of the Christian faith taught about the topic and the context in which He placed baptism? Furthermore won't it be great to carefully study and come to a conclusive understanding of what the apostles whom Jesus personally chose taught about the subject? Furthermore, won't it be helpful to study and know what these men who were directed and reminded of all things that Jesus taught them by the Holy Spirit that Christ promised taught about baptism?
In the book 'Examining the Great Commission, A Call to Study' which is available for order online and bookstores, Baidoo-Essien undertakes the task to confront and address some of these questions and challenges by looking at what Jesus instructed and what the apostles taught on the topic. In his efforts as a searcher and one who seek to resolve most of these issues and challenges about baptism for himself and others, Baidoo-Essien attempts to put baptism in its proper context which is disciple making for Christ the Master. Baidoo-Essien raises some thought provoking questions in his book. He also provides insightful thoughts and perspectives with regards to some of the questions, concerns and challenges that come along concerning the role of baptism in the salvation of the Christian today.