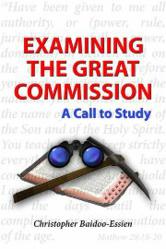 By faith we accept that we get out of the water in the same manner that Christ arose from death into newness of life.
Puyallup, WA (PRWEB) July 25, 2012
Faith is central to the Christian's life and it affects what the Christian does, how the Christian makes his or her choices and decisions. Faith is central to the Christian life because God requires it. Thus for most Christians, just about everything in this life is a matter of faith in God. Yet not all Christians seem to agree that faith and works done by Christians to please God ought to go hand in hand. Faith according to the bible comes from hearing the word of God, but faith itself is the belief that leads to placing one's hope in what the word of God says and trusting God because of that invested hope.
In the New Testament it seems many in the early Christian movement had issues harmonizing faith and the actions the Christian take as he or she goes about his or her day-to-day life. James the brother of Jesus spent some time on the issue of faith and works that demonstrates one's faith in the second chapter of the book that bears his name. He argued that without works how can others tell that a believer has faith? He concludes that faith in the absence of related works is dead and useless.
The confusion about faith and works done by the Christian is compounded when one considers that the bible teaches that the believer is saved by the grace of God and not works done. So then what kind of works are required by faith or are there any works required at all in addition to faith. As stated earlier James the brother of Jesus, one of the pillars in Jerusalem at the onset of Christianity indicated that faith alone without works cannot manifest itself and such faith is useless. Baidoo-Essien in his book 'Examining the Great Commission, A Call To Study' discusses this issue by taking a look at the records sited in the bible of the men and women of faith, the heroes of faith to help educate mankind about faith and what to do with it. Baidoo-Essien notes that there is a difference in works that people do from their own will in the attempt to please God verses works that people do because of their faith in what God has commanded. In differentiating between these two kinds of work, Baidoo-Essien redirects the discussion on the topic to what the bible says noting how the Patriarchs of old pleased God well by their faith and response to God.