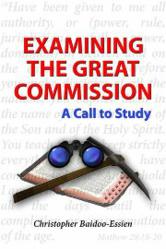 God's word has the inherent tendency and the ability to come to pass or to be fulfilled
Puyallup, WA (PRWEB) April 12, 2012
Most people understand the concept of power and authority and often associate both terms to each other. Frequently, we use both terms as if they mean the same thing. In the new book 'Examining the Great Commission, A Call To Study', Baidoo-Essien looks at the difference in these two terms as he analysis Mathew's account of the Great Commission statements extensively. In this new book, Baidoo-Essien notes that as God or the Son of God, Jesus was unlimited in the power he exercised as seen in the miracles Jesus performed and forgiving sins. Yet as a son, the book notes, Jesus submitted to his Father will in spite of the equality Jesus had with his Father.
In 'Examining the Great Commission, A Call To Study' now available for purchase online and in bookstores, Baidoo-Essien observes that a person in authority position has limited power granted to them to exercise. In the thirteenth chapter of the book of Romans in the New Testament, the Apostle Paul writes that God is the one who establishes all authorities along with the power they exercise. The apostle further instructs Christians to submit to these authorities. Pointing to this and other passages and prophecies in both the New and the Old Testaments, Baidoo-Essien makes the point that God established and appointed Christ as the head of all things and desires that all should submit to Christ. Christ is the head of all authority, dominion, rule or powers that exist as well as the savior of mankind. The book notes furthermore that as king and head of all authority, the jurisdiction of Christ according to Mathew covers the earth and heaven.
Baidoo-Essien further observes in this new book that at the transfiguration of Christ where Moses and Elijah appeared together with Christ in the presence of His apostles Peter, James and John, God used the occasion to affirm the transition from the old covenant to the new covenant. Both Moses and Elijah were prominent historical figures well respected not only for their contribution to the history of Israel but also how powerfully God used them to rescue, establish and revive the relationship between him and the people of Israel. In affirming Christ at the transfiguration the book notes that God acknowledged Jesus as his son and that from thenceforward Jesus Christ is the preferred authority for all people to listen to and follow. Also significant to the occasion is the replacement of the old authorities – the Law, the Prophets and the Psalms with the new – Christ.
A compelling read for both Christians and non-Christians, this book is filled with insightful analysis.