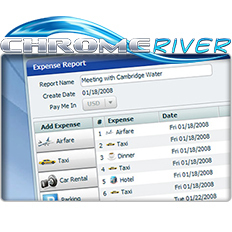 In these times of economic scrutiny, firms large and small have been reaching out to adopt better automation to improve their operational efficiency and combine that with more rigid cost control capabilities
Los Angeles (PRWEB) August 11, 2009
Chrome River Technologies, a leading provider of expense reporting and spend management solutions for law firms and professional service organizations worldwide, announced today that two of the world's leading consulting organizations, with over 4,500 professional consultants and 6,000 employees worldwide, have selected Chrome River EXPENSE to handle their expense reporting and cost control process.
Both organizations completed exhaustive reviews of the solutions available to better automate their expense reporting process and were sensitive to the difficulty of implementing such solutions for widely disbursed consultants. They were further challenged by their specialized requirements which needed to be met for proper handling of professional billable and non-billable expenses, line item approvals, and the many other nuances of professional services accounting. Ultimately, the evaluation teams from both of these organizations were able to independently concur and selected Chrome River because of ease of implementation, user experience, flexible handling of compliance and approval routing rules, international tax handling and tight billing system integration for cost recovery.
"In these times of economic scrutiny, firms large and small have been reaching out to adopt better automation to improve their operational efficiency and combine that with more rigid cost control capabilities," said Chrome River COO, Dave Terry. "Chrome River EXPENSE is able to directly address both of these needs and provide it quickly with easy access from anywhere in the world and a beautiful, intuitive interface that requires virtually no training for users."
Delivered as a fully hosted SaaS solution using the latest rich internet application and cloud computing technologies, Chrome River is leading the field in meeting the expense report processing requirements for law firms and professional services organizations worldwide. From expense entry through data integration with the leading professional service financial systems such as Aderant, Barrister, Deltek, Elite, Rainmaker, and others, Chrome River assists firms in better controlling, containing and reducing their organizational costs.
About Chrome River
Chrome River Technologies, Inc. provides the only online expense reporting and spend management solution designed specifically for law firms and professional services organizations. Utilizing the latest "Software as a Service" technologies, Chrome River Expense delivers immediate payback via a service delivery model that requires no hardware, no software, and no long-term commitment. This unique service is tailored for all of the specialized requirements of professional services organizations and allows firms to quickly solve the many issues of expense reporting, compliance, routing, approvals, receipt imaging and billing integration. Additional information about Chrome River Technologies, Inc. and its solutions may be obtained by phone at 1.888.781.0088 or by visiting the company website at http://www.chromeriver.com.
###