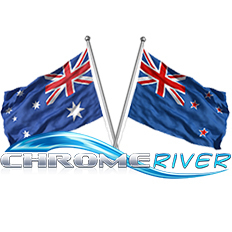 we work to enhance our clients business by the application of our unique skills, experience and product knowledge
Los Angeles, CA (PRWEB) October 9, 2009
Chrome River Technologies, a leading provider of expense reporting and spend management solutions for law firms and professional service organizations worldwide, announced today that they have entered into formal marketing reseller agreements with two of Australia/New Zealand's leading technology consulting providers.
"We are extremely pleased to have Chrome River EXPENSE represented by Swerdlove and Trinogy Systems of Australia. Both consulting firms came highly recommended and were very well-regarded by their customers. They each have deep professional services experience and technical capabilities to deliver complete solutions for their customers," said Dave Terry, co-founder and COO of Chrome River.
With ten of the Global Top 50 law firms as customers and an expanding base of small-to-midsize law firms, Chrome River is beginning to expand the international reach of its online expense reporting service. Law firms and professional services organizations around the globe are experiencing common business challenges controlling their non-billable expense spend, ensuring policy compliance and timely client billing of their recoverable expenses.
Similarly, one of Australia's leading law firms, Gilbert + Tobin, was beginning to feel the strain of a manual business process in need of better control and automation. In an effort to continually enhance their business operations, Gilbert + Tobin selected the Chrome River EXPENSE service. "With Chrome River, we finally found an expense report processing solution that is tailored for our environment, is easy to use for our lawyers and assistants, and provides the law firm business with all of the necessary controls and process efficiencies to enable a quick return," said Michael Boot, CFO of Gilbert + Tobin.
Delivered as a fully hosted SaaS solution that uses the latest rich internet application and cloud computing technologies, Chrome River is leading the field in meeting the expense report processing requirements for law firms and professional services organizations worldwide. From expense entry through data integration with the leading professional service financial systems such as Aderant, Barrister, Deltek, Elite, Rainmaker, and others, Chrome River assists firms in better controlling, containing and reducing their organizational costs.
About Chrome River
Chrome River Technologies, Inc. provides the only online expense reporting and spend management solution designed specifically for law firms and professional services organizations. Utilizing the latest "Software as a Service" technologies, Chrome River Expense delivers immediate payback via a service delivery model that requires no hardware, no software, and no long-term commitment. This unique service is tailored for all of the specialized requirements of professional services organizations and allows firms to quickly solve the many issues of expense reporting, compliance, routing, approvals, receipt imaging and billing integration. Additional information about Chrome River Technologies, Inc. and its solutions may be obtained by phone at 1.888.781.0088 or by visiting the company website at http://www.chromeriver.com.
About Swerdlove
Established in 2002, Swerdlove (http://www.swerdlove.com) provide specialist consulting and IT software and services to professional service firms worldwide. As an independent service vendor, Swerdlove differentiates itself through superior client service and technical excellence. With our business outcomes focus we take great pride in establishing the relevant inputs, outputs and business logic required while offering valuable technical suggestions drawn from our extensive understanding of professional services firms. We help firms boost profitability by providing a range of products and services that increase efficiency, improve operational effectiveness and help a firm to sustain a strategic competitive advantage.
Specializing in business analysis and reporting, performance measurement and system selection, Swerdlove cost effectively ensures business critical information systems continue to provide return on investment throughout their lifecycle. Along with services to firms from the Cayman Islands, Hong Kong, Singapore, the UK, Canada, and Bermuda, we are an independent service firm with a global client base spanning the Asia Pacific, North and South America and Western Europe. Our clients consist of innovative medium to large professional services firms. Swerdlove has 7 offices worldwide including four in Australia, two in the U.S., and one in New Zealand.
About Trinogy Systems
Trinogy Systems is a specialist IT consultancy and solution provider servicing the information management needs of organisations in Australia, New Zealand and S.E. Asia. Our customer-centric philosophy is best summarised by the statement: "we work to enhance our clients business by the application of our unique skills, experience and product knowledge".
Trinogy markets and supports only world-leading applications for document management, workflow, customer relationship management and expense control & reporting. Trinogy has delivered solutions to professional services firms, via the certified consulting personnel, for almost 15 years and has an intimate understanding of the key drivers and issues concerning IT in these organisations. Our client base varies in size from sites with thousands of users to sites with less than 20 and we are held in high-esteem by some of the leading legal and commercial companies in our market. For more information, please see our website at http://www.trinogy.com.au.
###