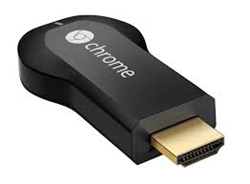 Cord-cutters who are planning to get rid of cable or satellite services next year could invest as much as $25 in a streaming device to get many of the same channels
San Jose, CA (PRWEB) November 28, 2014
Streaming video products are now in demand for consumers who choose to watch regular sized televisions compared to laptops or PCs in the U.S. The FYI Geek website is now revealing a Chromecast 31 percent discount for gift buyers this season at http://fyigeek.com/best-holiday-gifts-2014.
Shoppers who plan to buy digital streaming devices from Internet retailers could take advantage of the discounts reported in the FYI guide posted online. The low entry-level price for Chromecast streaming sticks this year is expected to introduce more Americans to the concept of watching thousands of shows at no additional cost.
"Cord-cutters who are planning to get rid of cable or satellite services next year could invest as much as $25 in a streaming device to get many of the same channels," one FYIGeek.com reviewer said.
The 31 percent holiday discount for the Chromecast device published in the FYI review is expected to remain for a limited time. Retailers that are currently marking down certain products to entice consumers could fluctuate the pricing based on demand or shortages in the market. The FYI Geek company will curate all guides to help notify shoppers of late-minute sale price data.
"The Fire TV, Firestick and Chromecast discounts reported inside of our guides are meant to introduce tech buyers to holiday discounts featured through Internet merchants," said the reviewer.
The FYIGeek.com portal was started in 2000 and continues to remain one source for locating technology gift guides and other retail information. Additional guides detailing gifts for mothers and after Thanksgiving shoppers are now posted on the company website at http://fyigeek.com.
About FYIGeek.com
The FYIGeek.com company produces guides and blog posts that are designed for consumers during the major holiday seasons in the U.S. The company supplies direct information for consumers to help make buying from Internet based merchants easier. The FYIGeek.com company posts new content to its homepage and discover last-minute promo codes from retail outlets to educate web shoppers who wait for the final announced price changes from retailers.