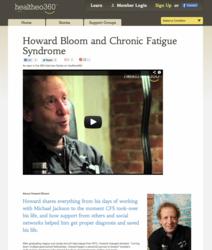 Ultimately what you want to do is get better, and this goes back to the second rule of science, look at things right under your nose. You want to solve your own problems, it doesn't matter who has what theory about what, which means you need to try things
Flemington, NJ (PRWEB) February 13, 2013
healtheo360 announces 360 Interviews, an in-depth spotlight series on healtheo360 members living with chronic conditions. "healtheo360 is proud to announce 360 interviews. 360 interviews offer invaluable insight and a brand new way for people with chronic conditions to better communicate and connect with people just like themselves. We are excited to kick off 360 interviews in a huge way with the infamous Howard Bloom," stated David Duplay, chairman of healtheo360.
360 Interviews takes an in-depth look at the journeys of incredible individuals, how their lives were altered by chronic conditions, and how they took back control. In the first installment of 360 interviews, healtheo360 gives glimpse into the life of world-renowned social theorist, PR Maven and Chronic Fatigue Syndrome authority, Howard Bloom. With more than 90% of Americans living with CFS being initially dismissed or misdiagnosed by their families and healthcare providers, Howard Bloom shares his journey of diagnosis, adaptation and survival.
Howard shares everything from his days of working with Michael Jackson to the moment CFS took-over his life, and how support from others and social networks helped him get proper diagnosis and saved his life.
"Ultimately what you want to do is get better, and this goes back to the second rule of science, look at things right under your nose. You want to solve your own problems, it doesn't matter who has what theory about what, which means you need to try things."- Howard Bloom
About healtheo360
healtheo360 gives patients, caregivers, family and friends the ability to share their stories via video or text. There members follow each other on their journeys communicate with each other throughout the site, and participate in various Support Groups.
healtheo360 is an important social resource for patients and caregivers to understand and manage their conditions as well as receive relevant medical content from 3rd party authoritative sources through our support group network.
healtheo360 offers people with chronic conditions a trusted venue to share their stories with the hope that it will help just one person understand how to cope with and manage their condition. Likewise, people who are diagnosed with a chronic condition want to hear from others just like them to better understand what their future might look like, how to deal with the many challenges they might be faced with and to feel less alone. To learn more about healtheo360 and their services, visit healtheo360.com.
Press Contact:
Healtheo360
David Duplay, Chairman
Telephone: 646-220-9200
Email: Dave(at)healtheo360(dot)com