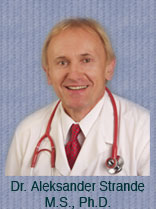 I'm saying call me and talk with me before you totally give up, and talk to dozens of my patients and hear what they have to say.
Houston, TX (PRWEB) August 06, 2011
Naturopathic Medicine is a form of alternative medicine comprising of a range of modalities favoring a holistic approach, and, like conventional medicine seeks to find the least invasive measures necessary for symptom improvement or resolution, thus encouraging minimal use of surgery and unnecessary drugs. Naturopathic Medicine is represented in the US by the American Association of Naturopathic Physicians (AANP), which was founded in 1985 and has 2000 student, physicians, supporting, and corporate members.
Naturopath, Dr. Aleksander Strande M.S.,Ph.D., of Simply Healing Clinic in Texas has announced that his Houston office which specializes in Naturopathy and Herbal Treatments is providing professional services via telephone consultation to assist those who suffer from both mental and physical pain outside of the state. The service offering provides phone consultations in the form of "virtual visits" which require patients to answer questions in order for the practitioner to establish a history about present complaints as well as other possible problems. Phone consultations will question the patient and help establish a picture to ascertain the underlying cause of health problems. Initial treatment begins with an extensive interview and history of the patient, and includes many questions in order for the practitioner to establish a history about the present complaints as well as any other possible problems.
"I find that among the people who suffered from Chronic Fatigue or Fibromyalgia for more than 10 years, 20% seem to fall in love with their disease. I have no idea why this happens. Maybe the reason for this is that people go from one practitioner to another and after continued failure, they give up. I'm saying call me and talk with me before you totally give up, and talk to dozens of my patients and hear what they have to say." said Aleksander Strande, M.S.,Ph.D
About Dr. Aleksander Strande:
Aleksander Strande, ND, PhD, is a Microbiologist and Naturopath. His special interests are in difficult-to-help conditions. Dr. Strande has over twenty years of experience as a Naturopath. Aleksander Strande presents from Poland the Dyplom in Biology. From Norway, he completed two years of research in a five year microbiology doctoral program. From Australia he presents the Diploma of Herbal Medicine and Master of Science in Herbal Medicine, Postgraduate Diploma in Clinical Nutrition, Master of Science in Clinical Nutrition, a Diploma of Homeopathic Prescribing and Ph.D. in Advanced Naturopathic Medicine. Dr. Aleksander Strande has written for publications like Whole Health News, Vision Magazine, Awareness Magazine and several others. To find out more please visit: http://www.simplyhealingclinic.com
###