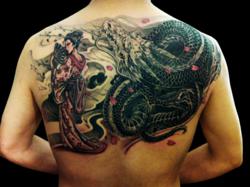 "We hope to show the world that tattoos aren't for outlaws," says Fung. "Our clientele include firemen, lawyers, teachers, students, and even a priest," he adds.
Toronto, Ontario, Canada (PRWEB) September 29, 2012
Toronto Tattoo Shop 'Chronic Ink Tattoos' is proud of not only their work, but of the art of tattoos in general. The Toronto tattoo shop hears many concerns though when it comes to making a decision to ink. The biggest deterrent is that people feel they can't let their employers see their tattoos. It seems the art of ink faces some roadblocks when it comes to perception. The Toronto tattoo shop has initiated Project X-Cepted in hopes that they will shed a positive light on tattoos and show the world that people in all walks of life are accepting the art.
Chronic Ink Tattoos specializes in Asian tattoos but Project X-Cepted isn't meant to just bring a positive profile to their shop or their talented tattoo artists. "We want the world to see that tattoos are an acceptable and respectable decision on behalf of every individual who chooses to get one," says Ricky Fung, Owner and founder of Chronic Ink Tattoos. "Hopefully through these photos, the rest of the world will see that we are not a bunch of crazies, that we are just ordinary people who have an affection for body art."
For many, the decision to get a tattoo and the size of the tattoo is rarely based on personal preference, but rather the perception of others. Many find that it's not only employers who judge an individual with tattoos but they likely find a negative reaction from family members as well. It can cause them to feel embarrassed and uncomfortable about their tattoo. "If you are going to make the decision to have a tattoo created for you, it's a personal decision,' says Fung. "It shouldn't be decided based on how you feel others will react."
The Project is being promoted on the Chronic Ink Tattoo Facebook page and calls for anyone with a tattoo, from anywhere or any tattoo shop in Toronto or the Greater Toronto Area (GTA), to contact them and let them know if they are interested in being photographed by professional photographers. The photos will be displayed on Chronic Ink Tattoo's Tumblr blog. The clients will be allowed to keep the professionally shot photos. Chronic Ink Tattoos has partnered with a number of professional photographers who are willing to take up to 5 free photos of each Project X-Cepted participant.
Chronic Ink Tattoos will select participants based on availability. "We hope to show the world that tattoos aren't for outlaws," says Fung. "Our clientele include firemen, lawyers, teachers, students, and even a priest," he adds.
The Project X-Cepted photo shoot is available to a limited number of participants, so contact us today by calling Chronic Ink Tattoos in Toronto at (416) 544-0311 or Chronic Ink Tattoos in Markham at (905) 305-0311 or e-mail us to learn more.
ABOUT CHRONIC INK TATTOOS
Chronic Ink Tattoos is recognized as one of the best tattoo shops in Toronto, Ontario and Canada, winning over 20 awards since 2008 for outstanding tattoo artistry. The Toronto tattoo Shop and its Artists specialize in Asian Tattoos, along with body piercings, tattoo cover-ups and while they specialize in Asian tattoos, they can create any type of tattoo - western, realism, tribal, horror in color or black and grey. Chronic Ink Tattoos is proud of their highly qualified and experienced tattoo artists who are trained overseas in the traditional Asian styles of Japan and China and guarantees the highest level of hygiene and safety in the industry. They serve residents in the Greater Toronto Area (GTA) and beyond with tattoo shops in Toronto and Markham, Ontario.