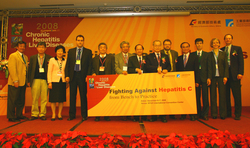 Taiwan, dedicated itself in study of hepatitis for a long time
Taiwan (PRWEB) December 12, 2008
This year, from December 6th to 7th, the Industrial Technology Research Institute (ITRI) held the 2008 International Symposium on Chronic Hepatitis and Liver Diseases at NTUH International Conference Center. For this symposium, ITRI sincerely invited many international leading experts and authorities to take part in making the profound discussion about The Current Status of the Treatment for Chronic Hepatitis C Virus Research; the major participants in this conference included Mr. Ya Jin-Chuan, the Deputy Minister of Dept. of Health, Prof. Chen Ding-Sin, the ex-Dean of HTUH, Mr. Liou Jhong-jheng, the Director of ITRI's Biomedical & Engineering Research Laboratories (BERL), David A. Brenner, the Dean of School of Medicine in San Diego University, U.S., Dr. Augusto Villanueva from Span, and Dr. Masahiro Satake, the Director of Red-Cross Blood Center in Japan. More than hundreds of magnates such as authoritative doctors, leading experts, and industrial owners related in liver diseases participated in this symposium, targeting on the two issues:

The up-to-date experiences of medicine development and new therapy for hepatitis C
The current status of prevention & treatment and future research direction for hepatitis C.
"To combine many domestic fundamental studies on anti-hepatitis, dealing with liver diseases for compatriots in priority," the Director of ITRI's Biomedical & Engineering Research Laboratories, Liou Jhong-Jheng, declared, "ITRI actively promotes the Chinese herbal medicine & botanical new drugs against hepatitis in recent years, dedicated itself deeply in research and development of botanic new drugs for liver diseases, and has gained some initial achievement. Now, ITRI hopes integrate both excellent academic results & industrial strength in Taiwan with international research institutes & drug firms related in liver diseases, leading Taiwan to stand in a key position as a ruling research center for liver diseases."
In the past few years, ITRI's Biomedical & Engineering Research Laboratories has developed the leading medicine--Anti-Hepatitis B Botanic New Drug (BMEC-101) & CATC 701. Furthermore, ITRI set up the filtering platform & the evaluation mode of pharmacological activity for anti-hepatitis C drugs; meanwhile, it also built up the filtering platform & the evaluation mode of pharmacological activity for anti-arthritis drugs, the development and procedure for drugs, confirmation for component separator of pharmacological activity, database for botanic drugs, herbal medicine, and forum of metabolism. In addition, it set up the SOP for technical documents of IND (Investigatory New Drug), guiding Taiwan to become as a global indispensable role in developing Chinese herbs, botanic drugs and small molecular medicine.
"Taiwan, dedicated itself in study of hepatitis for a long time," said Prof. Chen Ding-Sin, the Doctor of HTUH. "At present, it has created a great amount of achievement and owned many outstanding clinical research talents. Now, Taiwan is standing on the key position, as an important role for hepatitis researching among international countries. By this symposium on hepatitis, we wish to increase the opportunities of interaction for international collaboration, accelerating the connection between the domestic studies and worldwide researches."
Due to the rich experiences and techniques of clinical studies in Taiwan, this time the conference set up the topics from Diagnosis, Treatment, and Prevention on Hepatitis to the Study of HCV Complication and Liver Transplantation, inviting several well-known and international instructors together in this forum, such as Prof. Lai Ming-Chiao, the President of National Cheng Kung University, Dr. Kao Jia-Horng in NTUH, Mr. Chen Jhao-Long, the Dean of Kaohsiung Chang Gung Memorial Hospital, Ming-Chu Hsu, the Chairman & CEO of TaiGen Biotechnology Co., Ltd., Zeng Zih-Lin, the Vice Director of ITRI's Biomedical and Engineering Research Laboratories, David A. Brenner & Christopher M. Walker from U.S., and Masahiro Satake from Japan. To integrate the studies from worldwide researchers, this symposium aimed at the issues about therapeutics & medicine, and development of examination on liver diseases, providing the latest information of the diagnosis, treatment, and investigations on new drugs for domestic academic, research institutes, and industrial uses.
Taking positive side of anti-hepatitis C drugs for business opportunities in global markets--approximately USD $6 billion a year (about NTD $2 trillion), now lots of drug firms actively take part in Taiwan's clinical examination for hepatitis C. To manifest Taiwan's superiority on study of liver diseases, the organizer held the forum for industries on the second day to provide the chances of interaction and communication for both domestic and international drug firms, sharing together with each other on the issue about research & development on new drugs for hepatitis C, and also, promoting international collaboration between domestic and overseas firms. Of course, it will elevate the value and beneficial results derived from the study to whole industry.
In the near future, ITRI, focused on the study of liver diseases, is looking forward to combine many researches & techniques among international countries, setting up the platform & mode for collaboration to guide further development for biomedical and engineering industries. For this promotion, the forum aimed at leading biomedical and engineering industries to promote their own CRO, CMO, internationalized medical care services, investigation on new drugs, medical equipments, and bio-medicament, creating more new business opportunities for domestic biomedical industries as the purpose.
Please visit allproducts.com Press Room for further information.
###