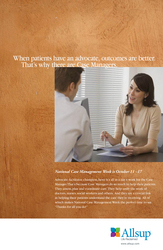 The cost of managing chronic illness has become astronomical
Belleville, Ill. (Vocus) October 2, 2009
The growing prevalence of chronic illness, such as heart failure and hypertension, are creating a more demanding healthcare environment and highlight the need for case managers, according to the Case Management Society of America. During National Case Management Week--Oct. 11 to 17, 2009, the CMSA and other organizations, including Allsup, are working to raise awareness about the value of case managers in the medical community. Allsup is a nationwide provider of Social Security disability representation and Medicare services.
"The cost of managing chronic illness has become astronomical," reports the August/September issue of Case In Point magazine, the official magazine for CMSA. For example, there are now an estimated 5 million Americans living with congestive heart failure.
The story, "New Dimensions in Disease Management," examines trends in supporting patients and providing quality, cost-effective care in light of costly chronic diseases. About 75 percent of U.S. healthcare spending goes toward treating chronic conditions such as diabetes, cancer and heart disease, according to Health Affairs journal (Jan. 2009).
Case managers are becoming increasingly important in developing healthcare strategies. Not only does case management support patients and their families in navigating the healthcare system, it decreases the fragmentation of services, encourages health team communication, and contributes significantly to patient safety, quality of life and cost-efficient management of limited resources. Case managers' activities include assessing and monitoring patients, determining their eligibility for treatments and arranging for additional services, such as housing.
Every day, case managers are contacted by individuals, family members and caregivers seeking their assistance and intervention. The week of Oct. 11 to 17, 2009, provides an opportunity to recognize and celebrate case managers' crucial element of caregiving. The national observance is a thank you for the efforts of professionals who work for government agencies, long-term care facilities, nonprofits, rehabilitation facilities and in other settings.
Allsup is saluting case management professionals during National Case Management Week with free posters available to case managers, clinics and other community groups by calling Karen Hercules-Doerr at (800) 854-1418, ext. 5770.
Media contact:
Case Management Society of America
Nikki Jackson
(501) 673-1121
http://www.cmsa.org
Free posters:
Allsup
Karen Hercules-Doerr
(800) 854-1418, ext. 5770
http://www.allsupcares.com
# # #