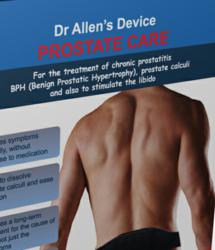 New natural therapy gives men a chance to forget about this disgusting prostate condition.
London, UK (PRWEB) January 04, 2012
Fine Treatment distributes the first natural Dr. Allen's Device for Prostate Care that enables new Thermobalancing Therapy to assist in recovery from chronic prostatitis. A chronic prostatitis treatment with the Thermobalancing Therapy relieves pelvic pain and other symptoms steadily without antibiotics, painkillers, medication and surgery. An interview of Fine Treatment's patient by Oxford Innovation Centre http://www.youtube.com/watch?v=c3RsiY3E4CM has shown that recovery from chronic prostatitis is a reality.
According to National Kidney & Urologic Diseases Information Clearinghouse (NKUDIC) 10 to 12 percent of men are experience prostatitis-like symptoms. Chronic prostatitis/chronic pelvic pain syndrome is the most common form of prostatitis. It may be found in men of any age. Its symptoms go away and then return without warning, and it may be inflammatory or non-inflammatory. According to American Academy of Family Physicians (AAFP) chronic prostatitis is hard to treat.
"Natural device for prostate care is the only effective treatment for chronic prostatitis as it reaches prostate gland," says Dr Allen, "New natural therapy gives men a chance to forget about this disgusting prostate condition."
To understand how Dr Allen's Therapeutic Device works, it starts out knowing the prostate gland is created down a man's body in the projection of the coccyx. That is why the nearest place from which a prostate can be reached from outside is the lower back. Dr Allen purposefully designed his therapeutic device to be closer to this area. The natural thermo-element which is a major part of his therapeutic device acts locally all the time while it is applied to the coccyx area. The device creates the ideal conditions for the body's own natural defence mechanisms to rebuild the damaged tissues in the prostate and recover from prostatitis. The therapeutic device takes off an inflammation restoring potency and increasing libido. Read more at http://www.finetreatment.co.uk/natural-alternative/prostate-treatment.html.
About Dr. Simon Allen and Fine Treatment:
Dr. Simon Allen qualified as a medical doctor 40 years ago and is a highly experienced medical professional. His specialty is in the cardio-vascular field and he treated patients with coronary heart disease, joints, kidneys and prostate conditions. Fine treatment produces and distributes devices for chronic prostatitis and BPH treatment, heart disease, to dissolve kidney stones and to relieve back pain in upper and lower spine areas.
###