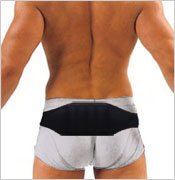 Dr. Allen's device for prostate treatment improves blood flow in the inflamed prostate tissue relieving swelling and easing pain together with other symptoms of chronic prostatitis.
London, UK (PRWEB) February 01, 2013
Poor track record of conventional and alternative treatments for chronic prostatitis has been giving much grief to patients and medical professionals alike. Astonishingly, the newest therapy on the market with Dr. Allen's Device for Prostate Care has demonstrated to be a successful natural treatment regardless of its user's age, Fine Treatment reveals. Worn as a comfortable belt with the natural thermo-element, the device works all the time while it is applied, and creates an ideal environment for blood to cleanse inflammation and reduce the swelling of the prostate gland. You can watch a short informative video here: http://www.youtube.com/watch?v=gBUkF1dGJ3A.
A new case of Mr. Hansruedi, 68, from Switzerland is reassuring: "Having suffered from CPPS for almost a year and a half, I bought Dr. Allen's Device for Prostate Care about a month ago and I am wearing it all the time. My pains went back from level 6 to level 3 by now, which is wonderful! I feel much better now and I am not thinking all the time of my sickness."
'Prostatitis gets little press, but it's an all-too-common genitourinary condition in men. It accounts for about 1.8 million visits to the doctor's office in the United States each year. Depending on how you define the term, 9% to 16% of men experience prostatitis', states the article on 'Treating prostatitis: Any cause for optimism?' by Michael P. O'Leary, M.D. at Harvard Medical School. 'Doctors continue to prescribe the medication because they have so few pharmacological options to offer patients as repeat courses of antibiotics probably aren't helpful.'
Despite their ineffectiveness, urologists keep prescribing long-term courses of antibiotics to patients with CP/CPPS even nowadays. 'Medical study finds fault with frequent use of antibiotics', states an article of 13 January 2013 in Northern Star reviewing the study of 2061 adults published in The Lancet Infectious Diseases. It has been found that patients, who had been prescribed amoxicillin, did not recover more quickly or had significantly fewer symptoms than those patients who received no medication.
According to the article titled 'Antibiotics aren't a magic cure all', by Gary A Emmett MD, "Giving an antibiotic to someone who does not need it creates at least many problems. According to the Centers for Disease Control and Prevention, it develops antibiotic resistance and side effects such as allergic reaction, stomach pain, diaper rash and diarrhea. The price of antibiotics treatment skyrockets since doctors need to use more exotic antibiotics. Even with an older patient discount, they cost almost $25 per pill versus $5 for 30 penicillin tablets," publishes Philadelphia Inquirer on January 13, 2013.
"It's a proven fact that antibiotics are largely helpless in fighting chronic prostatitis and can produce serious side effects but urologists still prescribe them," says Dr. Simon Allen. "Dr. Allen's device for prostate treatment improves blood flow in the inflamed prostate tissue relieving swelling and easing pain together with other symptoms of chronic prostatitis."
For details, visit Fine Treatment at http://finetreatment.com/chronic-prostatitis-cpps-treatment/.
About Dr. Simon Allen and Fine Treatment:
Dr. Simon Allen is a highly experienced medical professional. His specialty is in the internal medicine and cardio-vascular field. He has treated a wide range of chronic diseases, including patients after a heart attack, with kidneys problems, including kidney stones disease, prostate and spine conditions, as well as metabolic disorders. Fine Treatment exclusively offers Dr. Allen's devices for BPH treatment and chronic prostatitis, coronary heart disease, dissolving kidney stones, as well as back pain and sciatica relief.