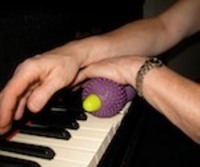 It is extremely validating to know that the unique features of the Muscle Angels® product design has been recognized by the U.S. government
Brookline, MA (Vocus) October 19, 2010
Norbis Innovations Company, LLC, is delighted to announce that the Muscle Angels® massager has been granted a design patent by the United States Patent and Trademark Office.
"It is extremely validating to know that the unique features of the Muscle Angels® product design has been recognized by the U.S. government," says Susan Z. Robins, president and founder of Muscle Angels®. "It thrills me to know that we now have the exclusive rights to manufacture and sell this innovative product that has already provided relief to thousands of people who suffer from chronic muscle pain."
The Muscle Angels® massager was born out of Susan's personal quest for relief from her own repetitive stress injuries. Susan had sought help from medical specialists, massage and occupational therapists, and had tried every massage product on the market, to no avail. "I could not find a therapeutic product that combined all the 'must have' features I needed. I needed a product that was easy to use, even on days when pain prevented my ability to grasp objects or turn a door-knob. I needed something substantial enough to address deep muscle pain in hard-to-reach places like my upper and mid-back—without having to ask a partner for assistance. And, because pain can strike at any time, I needed a product that was portable enough to fit in my gym bag, instrument case, or purse. When I couldn't find a product that met all my needs, I developed one myself."
After more than two years of product research, focus group testing, and prototype development, the Original Muscle Angel® finally came to fruition. And now, Susan is happy to report, it is patented—thereby, confirming its unique and novel design.
Kelly Belinksy, a Boston-based Occupational Therapist on the look out for new products that can help her patients who suffer from hand and arm pain, confirms, "Finally, there is an effective, all-in-one product specifically designed to minimize muscle pain and tension."
About Muscle Angels Massagers:
The Muscle Angels® hand-held massager provides quick relief from muscle pain and fatigue while increasing flexibility, circulation, mobility and elasticity. Muscle Angel Massager® combine the benefits of Myofascial Trigger Point, Acupressure, and Deep Tissue Massage—all in one product, and it is the only massager of its type that has been designed with an easy-to-use hands-free option for people who suffer from bilateral hand and arm pain. The Stability Sleeve, an add-on product, enables users to access hard-to-reach muscles without assistance. Muscle Angels® massagers are sold in doctor's offices, physical and massage therapy practices, holistic health centers and spas such as Canyon Ranch Spa and Kripalu Yoga Institute, and through Amazon.com. For more information visit – http://www.MuscleAngelMassagers.com.
###