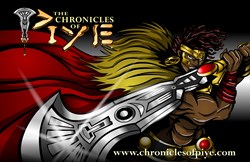 Toronto, Ontario, Nashville, Tennessee (PRWEB) December 05, 2013
The much anticipated graphic novel, "Chronicles of Piye: The Awakening" has recently been released and is available for sale in print and digital download format. You can order it from online venues such as Amazon, Ka-Blam, and is available on Amazon Kindle or as a digital download from Lulu. You can purchase it by going to the Chronicles of Piye online store. (View the promo video here).
The writer and creator of Chronicles of Piye, Richard Gaskin, has launched Kemstar Media through which other comic and mobile game titles will be produced through his collaboration with Chris Miller (aka Chris Crazyhouse) as well as other artists. Gaskin and Miller are currently working on developing a science fiction comic series, "Star Espers" whose release date has now been moved to somewhere between January and February 2014.
Kemstar initiates a Kickstarter campaign to help fund its first mobile game called Piye Chronicles and based on the popular comic series and graphic novel.
Just recently New York based Langston Hughes Community Library and Cultural Center ordered all four issues of the comic series as part of Kemstar Media's initiative to introduce the comics and subsequent graphic novel to libraries in North America. All four issues of Chronicles of Piye have been translated into Spanish, with the first issue currently being available for sale and the other three chapters to follow shortly as part of the effort are being made to address the substantial Spanish speaking fans in Central and South America. Kemstar Media has currently discussed publishing rights with an undisclosed major publishing company based in Colombia. Another group of receptive international fans hail from Indonesia, and the first issue of the comic series has also been translated into Indonesian, in recognition of the huge response on the Chronicles of Piye Fan Page from manga/comic fans in that country. The Indonesian version is expected to be released later this year and its sales to those fans will help determine how quickly future translated versions are rolled out by Kemstar or a partnering publishing company.
Gaskin and Miller are very optimistic about their Piye Chronicles mobile game. They're also very upbeat about their collaboration on the upcoming sci-fi project, "Star Espers" especially after seeing numerous early responses to some artwork released on the Facebook. One thing that they have noticed form their Facebook pages is that they are developing an international fan base with all their projects so far, which augurs well for this creative duo and their future collaborations.