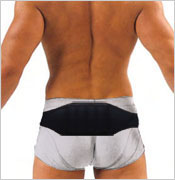 Dr. Allen's device for prostate treatment terminates prostate swelling and growth streadily relieving pain and other symptoms of BPH and prostatitis.
London, UK (PRWEB) August 18, 2012
Prostate problems previously veiwed as naturally incurable, i.e. BPH and chronic prostatitis or chronic pelvic pain syndrome (CP/CPPS), can now be treated with new Thermobalancing therapy, without resorting to long-term courses of antibiotics and medications, Fine Treatment reveals. No antibiotics and medications are involved, while a user is wearing Dr. Allen's device for prostate treatment. Moreover, antibiotics often do not needed to be prescribed at all in the first place as no bacteria can be found, and long-term medications for these distressing prostate conditions don't treat the actual cause of the disorders but only mask the symptoms.
Men regularly share their experiences on Men's-Health forum on Retrograde Ejaculation after Prostate Surgery. For instance, a message posted by John Scott Atlanta from Georgia on 2 November 2011 says, "for a middle-aged man, I'm in generally great health, work out 2-3 days a week (weight training and cardio), eat well. However, a couple of years ago I was experiencing all the symptoms of BPH / enlarged prostate. I took virtually every drug on the market to counter this, but nothing worked."
Our patient Timo, 38, who has recovered from chronic prostatitis in 5 months since starting to use the Thermobalancing therapy, initially asked: "Now wearing the device. Hope that this helps. I want to get rid of medication. I have now 3 weeks of antibiotics and continuous pain
killers. Do you know what type of pain killers are best?"
An article entitiled Overuse of Antibiotics May Cause Long-Term Harm presents an opinion of Dr. Martin Blaser, chairman of the department of medicine at New York University Langone Medical Center, that the overuse of antibiotics may even be fuelling the "dramatic increase" in many illnesses, including type 1 diabetes, allergies and inflammatory bowel disease by destroying the body's friendly flora, or protective bacteria.
A unique prostate treatment with Dr. Allen's device helps patients to recover from CP/CPPS and reverse prostate enlargement. The video shows a man who had suffered from CP/CPPS for over 4 years while taking antibiotics, and then treated himself with Dr. Allen's device: http://www.youtube.com/watch?v=a48bbQJQsdE.
"Prostate problems must be treated locally in the first instance," says Dr. Simon Allen. "Dr. Allen's device for prostate treatment terminates prostate swelling and growth streadily relieving pain and other symptoms of BPH and prostatitis."
Read more at http://www.finetreatment.co.uk/prostatetreatmentbph/prostatitistreatment.html.
About Dr. Simon Allen and Fine Treatment:
Dr. Simon Allen is a highly experienced medical professional. His specialty is in the internal medicine and cardio-vascular field. He has treated patients after a heart attack, with kidneys problems, including kidney stones disease, prostate and spine conditions. Fine Treatment exclusively offers Dr Allen's devices for chronic prostatitis and BPH, coronary heart disease, dissolving kidney stones, as well as upper and lower back pain and sciatica treatment.