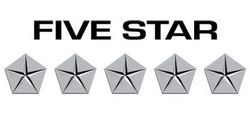 "Taking care of our customers is paramount to our success as a group and receiving Chrysler's 5 Star Certification shows we are on the right track."
Pikesville, MD (PRWEB) March 26, 2010
Heritage Chrysler Dodge Jeep Parkville and Heritage Chrysler Dodge Jeep Owings Mills, MileOne's two Baltimore-area Chrysler dealers, distinguished themselves by providing the best possible experience for their customers and earned 2009 Five Star Certification. The Five Star certification is the highest recognized award by Chrysler and identifies those dealerships that meet superior customer service standards.
"We are very proud of our teams at our Heritage Chrysler Dodge Jeep dealerships," said President and Chief Operating Officer of MileOne, Jerry Fader. "Taking care of our customers is paramount to our success as a group and receiving Chrysler's 5 Star Certification shows we are on the right track."
The following are the standards, specified by Chrysler, that dealerships must meet to qualify for the Five Star Award:

Contact every sales and service customer for feedback after the sale or service.
Survey dealership employees on a regular basis.
Act on feedback given by customers and employees.
Maintain high survey ratings.
Provide training to employees.
Keep the dealership grounds up to standards.
According to Scott Fader, the Divisional President over the MileOne Heritage Chrysler Dodge Jeep dealerships, "Everyone at both dealerships from our parts and accessories employees to those in service, sales and accounting aimed for excellence in 2009. Through sites like DealerRater.com and InsiderPages, we knew our customer reviews from 2009 were overwhelmingly positive and achieving this 5 Star Certification award from Chrysler further recognizes our commitment to providing our customers with the highest quality service."
To see why both MileOne Heritage Chrysler Dodge Jeep dealerships received Chrysler 5 Star Certification visit them online for new and used car inventory, sales and service specials and to schedule a sales or service appointment.
Heritage Chrysler Dodge Jeep Parkville is located at 9219 Harford Road Baltimore, MD 21234.
Heritage Dodge Jeep Owings Mills is located at 11212 Reisterstown Road Owings Mills, MD 21117.
About MileOne Automotive
MileOne Automotive operates 61 retail automotive franchises representing 27 different brands and 9 collision centers in Pennsylvania, Maryland, North Carolina and Virginia with a focus on the Baltimore-Washington, Hampton Roads/Virginia Beach, Nags Head/Elizabeth City and Wilkes-Barre/Scranton major metro areas. MileOne.com allows customers to research new, used and fuel-efficient luxury, import and domestic cars and trucks, send information about vehicles to their mobile device, schedule service appointments, buy parts and accessories, play automotive games, and download automotive wallpaper and mobile ring tones. For more information or to find a quality MileOne dealership near you, please visit http://www.mileone.com.
# # #