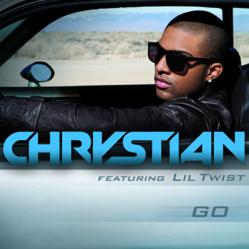 New York, NY (PRWEB) February 20, 2013
Hot off the heels of his chart topping set-up single "Get It In" refreshingly talented singer Chrystian has delivered his Bhrama Bull promo version of his single "Go" to DJ's. The infectious, head-nodding song featuring Young Money Cash Money artist Lil Twist is Chrystian's official debut. "Go" will be featured on Chrystian's album "Genesis," which is expected to drop early summer.
Listen here to "Go"
"Go" is already getting early play, from Kansas City (KPRS) and Lafayette (KRRQ), to Oklahoma City (KVSP) and Toledo (WJZE).
Labeled a "rising star" by Columbus Dispatch and a "sure-footed singer with a fearless style" by Favor Magazine, 21-year old Chrystian remembers how the ball started rolling. "A few years ago when I was16, I appeared on BET's 106 & Park Wild Out Wednesday. It was an experience that later helped me win an opportunity through BlazeTrak.com, to fly to Los Angeles and work with platinum-selling, Grammy-winning production duo Midi Mafia." Best known for their work on 50-Cent's #1 single "21 Questions" and Fantasia Barrino's "When I See U" the producers took the Columbus, OH native into the studio to record and have since continued to mentor him. They described the talented performer as "the total package."
Shortly thereafter, Chrystian signed to the fast-growing record label NZBeersa. In keeping Chrystian on the fast track, NZBeersa Records introduced Chrystian to anxiously awaiting fans with the new set-up song "Get It In." The song quickly garnered chart placement on Rhythmic and Urban stations. The video showcased the singer's good looks and top-notch dance skills.
Chrystian is hard at work prepping to embark on a national tour later this spring. For more information and details on all Chrystian's live events, contests and more, please visit his website http://www.chrystianonline.com.
Follow Chrystian:
Facebook: facebook.com/Chrystianonline
Twitter: @Chrystianonline
For interviews, photos and inquiries please contact:
Shirronda Sweet: Shirrondas(at)verizon(dot)net/(917) 627-9234