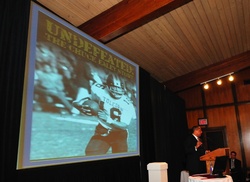 If you are looking for a dynamic, entertaining speaker, full of heart and passion, Chuck Ealey is your man.
(PRWEB) July 28, 2010
The "Perfect College Quarterback" Chuck Ealey is now taking his message of having an undefeated spirit across campuses and conference centres with the launch of his new speaking business, Chuck Ealey Speaks. As an accomplished athlete and a successful director in the financial services industry, Ealey's talks are sure to engage and motivate audiences of delegates, students, athletes, business leaders, sales professionals and more.
"If you are looking for a dynamic, entertaining speaker, full of heart and passion, Chuck Ealey is your man," says Bill Johnson, BBA, CLU.
Dedication, a strong work ethic and a determination to embrace a winning strategy in life have led Ealey to success in sports, academics and business; his story is the focus of the Emmy award winning documentary "Undefeated: The Chuck Ealey Story."
Following an undefeated football record in high school, Ealey received a football scholarship to the University of Toledo. While obtaining his degree in business economics, Ealey played quarterback for the UT Rockets, leading the team to a 35 - 0 college record and earning him the nickname "Perfect College Quarterback." The record stands to this day.
Despite his perfect record, Ealey was passed over as quarterback in the NFL draft. As a result, Ealey entered the Canadian Football League, where he had a highly successful career with the Hamilton Tigercats and the Toronto Argonauts. In 1972 he led the Hamilton Tigercats to their Grey Cup Championship, and was named the game's Most Valuable Player.
After his career in the Canadian Football league, Ealey went on to become a successful director within the financial services industry, a position he retains to this day.
With a variety of topics and experiences ready to be customized for audiences, Chuck Ealey speaks candidly and professionally to audiences about empowering one's life in every situation and embracing life's choices with optimism. He gives audiences the seven keys to master a winning edge and guides his audiences to recognize the power of choices, reaffirm the positive and develop an undefeated spirit regardless of life's circumstances.
Ealey is now available to speak as an inspirational, motivational and keynote speaker for any number of events and ceremonies, including charity events, industry conferences, business functions, celebration dinners, college commencement ceremonies, university graduation ceremonies or as a guest studio analyst. Talks are tailored to audiences appropriately and speak to leadership, teamwork and perseverance.
To student athletes, Ealey talks about sports being the conduit to getting an education and giving back to what truly matters. Students want to learn about using their passion to impact the pursuit of higher goals and values; Ealey's words inspire them to do just that.
Presenting to national corporations, Ealey speaks to managers, professionals and community leaders who build winning teams. He reminds them to never forget that every person on a team has a role to play, and every role plays its part in contributing to the bigger picture. Ealey speaks to how everyone can be a powerful contributor in every position you play.
Ealey's speeches and positive attitude are already connecting with audiences throughout the country. Johnson says, "I found dealing with Chuck, through the whole process, to be a pleasure. Chuck took time to understand our objective of the day and how he could tailor his message to bring the best value to our audience. He was well prepared and professional throughout."
For more information about celebrity Chuck Ealey or his new venture, Chuck Ealey Speaks, visit http://www.ChuckEaleySpeaks.com. To confirm Ealey for your next ceremony, event or meeting, visit Ealey's media page, email or call 416-997-2777.
# # #