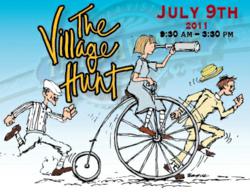 The Village Hunt will combine the strategies of popular board games with the adventure of a scavenger hunt.
Chula Vista, CA (PRWEB) June 17, 2011
Chula Vista's Third Avenue Village Association(TAVA) invites families and friends to join the first annual Village Hunt on Saturday, July 9 from 9:30 a.m. to 1:30 p.m. The event starts and finishes at Memorial Park. Participants will receive a Hunt Packet, race number bib, an official Village Hunt T-Shirt, and are invited to partake in an after party and awards ceremony.
Teams will test their brain power, creativity and physical ability by completing tasks and answering trivia questions as they explore the city's historic downtown. A quick wit and wise planning could win the day over speed and physical fitness.
"We are excited to welcome contestants to the Third Avenue Village for this event," said Greg Mattson, executive director of the TAVA. "The Village Hunt will combine the strategies of popular board games like Scrabble and Trivial Pursuit with the adventure of a scavenger hunt."
Teams of two to four will compete for a variety of prizes, including cash. The Village Hunt honors the Chula Vista Centennial year of 2011, so contestants are encouraged to brush up on the city's history.
The Village Hunt is equal parts fun, challenge and adventure for friends, family and neighbors. Participants can find registration forms online at http://www.thirdavenuevillage.com. Registration is $10 per person. Forms and payment must be received by July 1. Each team must have an adult at least 18 years of age or older.
About The Third Avenue Village Association
The Third Avenue Village Association's (TAVA) vision is to make Third Avenue the premier pedestrian business district in the city of Chula Vista, blending entertainment, dining, retail, professional, and residential uses. Embracing its historic character and diverse community, Third Avenue is the re-emerging cultural center of the city. TAVA is actively involved with the Third Avenue Streetscape Master Plan, which will reinvent, rejuvenate and enhance Third Avenue. Acting as a unified voice for property owners and tenants – TAVA represents members and promotes economic prosperity within the Village. TAVA is located in the heart of the Third Avenue Village at 353 Third Avenue, Chula Vista. For more information about TAVA, call 619-422-1982, or email info(at)thirdavenuevillage(dot)com.
About The Chula Vista Centennial
The Chula Vista Centennial is a yearlong, once-in-a-lifetime celebration of events, organized by and for the community to commemorate the history and people of the city and create a lasting legacy. City-wide events sponsored by community businesses, educational groups, and non-profit organizations in partnership with the Centennial's Committee of 100 volunteers will continue through 2011. To learn more about the Centennial and review a calendar of events and projects, visit the official website at http://www.chulavista100.com.
###