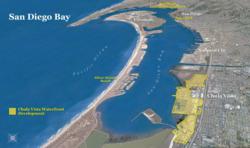 This ratings upgrade demonstrates that despite our financial challenges during the last two years, we have met our obligations, built our reserves and have been prudent with taxpayer money - Finance Director Maria Kachadoorian.
Chula Vista, CA (PRWEB) June 18, 2013
Standard & Poor's Ratings Services has raised the credit rating for the city of Chula Vista to an A from its previous rating of A-. An A rating indicates a "strong capacity to meet financial commitments, but is somewhat susceptible to adverse economic conditions and changes in circumstances."
The analysis released by the agency stated, "The stable outlook reflects our opinion of management's actions to stabilize the city's financial performance and of the city's strong reserves. The stability of the ratings will largely depend on our view of the city's ability to sustain a good financial position, partly evidenced by the maintenance of good reserve levels."
Other factors cited in awarding the A rating include:

City of Chula Vista participation in San Diego area's broad economic base
Above-average income and wealth indicators
Improved financial performance after a prolonged trend of deficit spending, resulting in sustained good reserve levels; and
Adoption of an enhanced reserve policy and plans to develop its funding strategy.
"This ratings upgrade demonstrates that despite our financial challenges during the last two years, we have met our obligations, built our reserves and have been prudent with taxpayer money," said Finance Director Maria Kachadoorian. "The A credit rating reflects our commitment to public accountability and financial diligence."
The city of Chula Vista was one of the first municipalities to feel the impacts of the recession in 2006. What followed were hundreds of foreclosed properties, drops in property and sales tax revenues, significant municipal budget deficits, and a 26 percent reduction in staffing. Chula Vista weathered this financial storm by taking proactive actions. Real pension reform, a leaner workforce and efficiency measures have improved the budget outlook.
These actions were critical to improving Chula Vista's credit rating. With the economy improving, sales tax revenues increasing, and the housing market recovering, Chula Vista's leaders are cautiously optimistic that the worst of the cuts are over and a better financial future is attainable.
Today, ambitious projects are moving forward in Chula Vista. This year, local developer McMillin Companies will break ground on a new mixed-use residential community called Millenia, located in the eastern portion of the city near well-established, master-planned communities. The development calls for a generous mix of condominiums and townhouses, a hotel, commercial space, parks, a library, school, fire station and transit station. Its 210-acre site lies east of state Route 125 near the Otay Ranch Town Center shopping mall.
East of Millenia, the city continues to make progress on acquiring the final acreages needed for a future 375-acre university and innovation center, located near the nation's only warm weather United States Olympic Training Center.
By the end of 2013, the Port of San Diego and city of Chula Vista will open an important thoroughfare to San Diego Bay. The opening of H Street will represent a significant advancement for the Chula Vista Bayfront Master Plan as it marks what will someday be the main entrance to a mix of modern waterfront living, parks and open space, conference center, shopping and hotels.
About the city of Chula Vista
The city of Chula Vista is located at the center of one of the richest cultural, economic and environmentally diverse zones in the United States. It is the second-largest city in San Diego County with a population of nearly 250,000. Chula Vista boasts more than 50 square miles of coastal landscape, canyons, rolling hills, mountains, and a variety of natural resources and quality infrastructure. Established neighborhoods, contemporary communities, start-up firms, corporations, nationally recognized entertainment venues, the nation's only warm weather Olympic Training Center, an award winning nature center and a historic downtown all contribute to Chula Vista's attraction for both families and businesses.