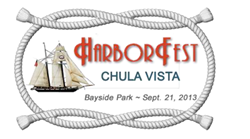 Chula Vista, CA (PRWEB) September 13, 2013
San Diego's own B-Side Players are set to headline a day full of live music and entertainment along south San Diego Bay at Chula Vista's Bayside Park. The nine-piece band honors the international cross-pollination that has always made music the universal language, creating an energetic beat that catches the ear with multifaceted grooves inspired by Latin America, the Caribbean, Cuba, Jamaica, Mexico and Brazil, then blended with funk, rock, jazz and hip-hop rhythms.
Chula Vista HarborFest is set for September 21, 2013 from 11 a.m. to 8 p.m. at beautiful Bayside Park. This admission-free event will feature a wide array of activities for families and friends to enjoy. New to this year's HarborFest are the much anticipated ticketed events including a Sustainable SeafoodFest, Baja Wine Tasting and Craft Beer Garden.
The waterfront festival will celebrate the Port of San Diego's 50-year anniversary, featuring live bands, engaging educational exhibits with interactive programs offered by the Living Coast Discovery Center, historic seafaring vessels courtesy of San Diego Maritime Museum, playful harbor activities on the water, fishing, exotic wheels and wooden boats, a fantastic Youth Zone and more.
HarborFest Main Stage Line Up

11:00 a.m. – 12:00 p.m. George Farres Group
12:00 p.m. – 12:15 p.m. DJ
12:15 p.m. – 1:15 p.m. Melapelus
1:15 p.m. – 1:45 p.m. Announcements and Presentation by Little Tommy KYXY
1:45 p.m. – 2:00 p.m. DJ
2:00 p.m. – 3:00 p.m. Lady Dottie and the Diamonds
3:00 p.m. – 3:30 p.m. DJ
3:30 p.m. – 4:30 p.m. Charlie Chavez y su Afro Truko
4:30 p.m. – 5:00 p.m. DJ
5:00 p.m. – 6:00 p.m. Haute Chili
6:00 p.m. – 6:30 p.m. DJ
6:30 p.m. – 8:00 p.m. B-Side Players
For updates and more information on this extraordinary event, and to reserve booths or purchase tickets for the SeafoodFest or Beverage Garden, please visit http://www.cvharborfest.com or call 619.233.5008.
McFarlane Promotions
656 5th Avenue, Ste. B San Diego, CA 92101
619-233-5008 Fax 619-233-0898
E-mail – alysia(at)mcfarlanepromotions(dot)com
http://www.mcfarlanepromotions.com