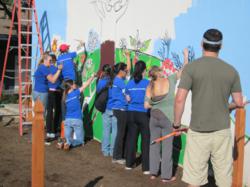 This is an outstanding community effort and now is a perfect opportunity for more residents to get involved to strengthen our city with their time and talents.
CHULA VISTA, CA (PRWEB) February 13, 2012
Following a successful resident-driven community improvement effort in 2011, Chula Vista Serves today announced the availability of three remaining Love Your Block grants for Chula Vista residents and community groups. Grant recipients are awarded a $500 Home Depot gift card, which can be used to purchase materials for a neighborhood improvement project.
Applications are available at http://www.cvserves.org and are due by February 27. Instructions for submitting completed applications are available on the grant application.
Last year, Chula Vista Serves awarded 17 Love Your Block mini-grants to fund neighborhood improvement projects. Through the support of The Home Depot Foundation, the grants helped volunteers revitalize school vegetable gardens, improve a local T-ball facility, and provide materials to neighborhood groups working to remove graffiti and improve dilapidated spaces in their communities.
The neighborhood groups that accomplished these projects were recognized by the Chula Vista Mayor and City Council on January 26.
"Our ability to make lasting change through service is invaluable to the long-term success of our city – we all have a stake in our future," said Chula Vista Mayor Cheryl Cox. "This has been an outstanding community effort and now is a perfect opportunity for more residents to get involved to strengthen our city with their time and talents."
Highlight results from the groups' combined volunteer efforts include:

200 pounds of litter collected
Nearly 3,000 square feet of graffiti removed
19 trees and 35 shrubs planted
5 community gardens created
Nearly 800 Chula Vista residents and volunteers contributed their time to Love Their Block!
An example of the many projects that contributed to the 2011 results is Volunteers of America Affordable Housing Complex in southwest Chula Vista. Residents, youth volunteers, and apartment managers used Love Your Block grant funding to build ten raised garden beds and a garden shed on an underutilized strip of land adjacent to the complex's parking lot. Residents of the complex had long sought additional space for gardening, and the Love Your Block program provided a catalyst for the community to work together to realize this vision.
Love Your Block is a tested, high-impact community service opportunity for Chula Vista residents to demonstrate their neighborhood pride, work together, and revitalize areas on their block needing attention or some extra tender loving care.
Project Description
Chula Vista Serves seeks neighborhood groups/organizations to develop and implement volunteer-led projects.
Love Your Block Applicant Criteria

For the purpose of the Love Your Block campaign, a block is defined as a minimum of 10 residents in proximity to one another within the City of Chula Vista.
Each group must have a detailed and realistic action plan for engaging residents to carry out a physical transformation of their block.
Implement the volunteer project in March 2012.
Grant recipients must also commit to providing before/after pictures as well as measure specific impact, e.g., # of trees planted, # of pounds of trash collected, # of pounds of mulch distributed, square footage of graffiti removed, # of green spaces/gardens created, # of physical resources created , # of volunteers engaged.
Potential Projects include, but are not limited to:

Vacant lot clean-up
Litter removal
Graffiti removal
Fence replacement/painting
Pet waste bag dispenser(s)
Tree planting (not in city right of way)
Community garden development (per city policy)
Yard sharing (private property only)
Mural painting (private property only)
Safety/security lighting/improvements (private property only)
Water conservation measures, e.g., installation of low-flow sprinklers
Energy conservation measures, e.g., installation of motion detector lighting
About Chula Vista Serves
Launched in March 2011 in partnership with the City of Chula Vista and Cities of Service, Chula Vista Serves is a campaign to engage residents in targeted efforts that address pressing community needs through impact volunteerism. The initial areas of focus are education and community health and wellness. For more information about Chula Vista Serves and to read the service plan, visit cvserves.org.
Chula Vista is the proud recipient of a Cities of Service Leadership Grant, funded by the Rockefeller and Bloomberg Foundations. This grant supported the hiring of the city's first Chief Service Officer who is designated to promote strategic volunteerism with the goals of increasing civic engagement by residents and aligning volunteers with existing and new service opportunities to support important community needs within Chula Vista.
###