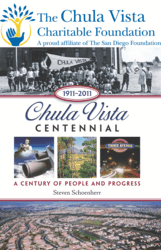 You can give people in your life a lasting gift for the holidays, knowing your gift is also working to help others in our community.
Chula Vista, Calif. (PRWEB) November 13, 2012
Over the holiday shopping season, proceeds from purchases of the award winning coffee table style history book "Chula Vista Centennial: A Century of People and Progress" will go to the Chula Vista Charitable Foundation to fund local philanthropic efforts in the city of Chula Vista.
Like the Chula Vista Charitable Foundation on Facebook.
The book is now available for $24.99 at Barnes & Noble in Otay Ranch Town Center and at both Chula Vista Costco locations at membership pricing through the New Year. The book can also be purchased at Chula Vista City Hall at the front desk of the office of the Mayor and Council Mon. thru Thurs., 8a.m. – 5p.m. (276 Fourth Ave., Bldg. 100, Chula Vista 91910) or online at ChulaVista100.com through Dec. 14.
"Sales of this beautiful book can help increase funding for positive community efforts made possible through the Chula Vista Charitable Foundation," said Chula Vista Mayor Cheryl Cox. "You can give people in your life a lasting gift for the holidays, knowing your gift is also working to help others in our community."
In 2012, the Chula Vista Charitable Foundation awarded more than $47,000 to nonprofit organizations serving Chula Vista. These awards enabled South Bay Family YMCA and The Starlight Center to provide physical activity and healthy lifestyle education for 500 elementary school children and more than 150 adults with disabilities. The Chula Vista Community Collaborative also benefitted from a grant to help Chula Vista families in crisis access needed services.
Written by acclaimed historian and University of San Diego professor emeritus Steven Schoenherr, the book illustrates the first one hundred years of Chula Vista's history. Taking the reader on a chronological and visual journey decade by decade, "Chula Vista Centennial: A Century of People and Progress" brings to life historic facts and personal recollections of residents, educators and leaders in business and local government. From the images of the town's Great Flood to stories about the first dog catcher and historic home preservation, readers will experience the hardships and good times that made Chula Vista the community it is today.
The book won the following awards and recognitions:

San Diego Book Award Association – Winner, Local Interest and History. Founded in 1994, the SDBAA honors the best published books and unpublished manuscripts by San Diego County residents each year.
Eric Hoffer Book Award – Finalist, Art category. This award recognizes books that capture the experience, execution, or demonstration of the arts, including art, fine art, graphic art, architecture, design, photography, and coffee table books. Fewer than 10% of titles become category finalists.
Independent Book Publishers Association's "Ben Franklin" Award – Finalist, Regional category. Named in honor of America's most cherished publisher/printer, the Benjamin Franklin Awards™ recognizes excellence in independent publishing and judges books on editorial and design merit by top practitioners in each field.
Independent Publisher Book Awards (IPPYs) -- Finalist in the Regional Best Non-Fiction West-Pacific. IPBA recognizes excellence in publishing. Of 4,813 print book entries, 2,400 independent authors and publishers submitted books.
About the Chula Vista Charitable Foundation
The mission of the Chula Vista Charitable Foundation, an affiliate of The San Diego Foundation, is to improve the quality of life within Chula Vista by promoting and increasing responsible and effective philanthropy. The CVCF seeks to increase charitable giving by and for the benefit of all who live and work in Chula Vista, build a Chula Vista endowment to provide for the community into perpetuity and give Chula Vista community members a vehicle for legacy planning and gifts to benefit Chula Vista now and forever. CVCF members are active participants in deciding how and where to make an impact in their community. Half of all CVCF membership dues go immediately into grantmaking efforts, while the other half goes into a permanent endowment to sustain future efforts for the good of the Chula Vista community. For information on becoming a member, visit http://www.chulavistacharitablefoundation.org or contact Zaneta Salde Encarnacion, through email at zaneta(at)sdfoundation(dot)org or by phone, (619) 814-1328.
About The San Diego Foundation
Founded in 1975, The San Diego Foundation's purpose is to promote and increase effective and responsible charitable giving. The Foundation manages more than $560 million in assets, almost half of which reside in permanent endowment funds that extend the impact of today's gifts to future generations. Since its inception, The Foundation has granted more than $780 million to the San Diego region's nonprofit community. For additional information, please visit The San Diego Foundation at http://www.sdfoundation.org.
About the City of Chula Vista
The City of Chula Vista is located at the center of one of the richest cultural, economic and environmentally diverse zones in the United States. It is the second-largest City in San Diego County with a population of nearly 250,000. Chula Vista boasts more than 50 square miles of coastal landscape, canyons, rolling hills, mountains, and a variety of natural resources and quality infrastructure. Established neighborhoods, contemporary communities, start-up firms, corporations, nationally recognized entertainment venues, the nation's only warm weather Olympic Training Center, an award winning nature center and a historic downtown all contribute to Chula Vista's attraction for both families and businesses.