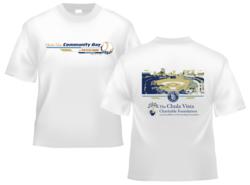 Tickets for the Chula Vista group are discounted up to 30% off face value.
Chula Vista, CA (PRWEB) May 07, 2013
One lucky ticket buyer for Chula Vista Community Day at Petco Park will get to bring up to three guests to meet Chula Vista native, former Padre and current Dodger Adrian Gonzalez before the game on Sunday, June 23 when the Padres take on the L.A. Dodgers. To qualify for the Gonzalez meet-and-greet opportunity, fans must purchase discounted tickets by visiting the Chula Vista Charitable Foundation website at ChulaVistaCharitableFoundation.org. Click on the Petco Park image located on homepage.
All meet-and-greet guests must be in possession of tickets purchased through this promotion.
A free t-shirt commemorating the day will be provided with each of the first 500 tickets sold. Proceeds generated by ticket sales benefit the Chula Vista Charitable Foundation, which has granted more than $47,000 to Chula Vista nonprofits since 2011, with an additional $30,000 to be granted in 2013.
Tickets in the Chula Vista section are expected to sell out, so fans are encouraged to purchase their individual or group tickets online soon. Buyers using promotion code CV2013 can save more than 25-30 percent off ticket prices.
On game day, the Chula Vista group will be seated in adjoining sections to enjoy the fan experience together.
Chula Vista Community Day at Petco Park
San Diego Padres vs. L.A. Dodgers
Sunday, June 23, 2013 at 1:10 p.m.
About the Chula Vista Charitable Foundation
The mission of the Chula Vista Charitable Foundation (CVCF), an affiliate of The San Diego Foundation, is to improve the quality of life within Chula Vista by promoting and increasing responsible and effective philanthropy. The CVCF seeks to increase charitable giving by and for the benefit of all who live and work in Chula Vista, build a Chula Vista endowment to provide for the community into perpetuity and give Chula Vista community members a vehicle for legacy planning and gifts to benefit Chula Vista now and forever. CVCF members are active participants in deciding how and where to make an impact in their community. Half of all CVCF membership dues go immediately into grantmaking efforts, while the other half goes into a permanent endowment to sustain future efforts for the good of the Chula Vista community. For information on becoming a member, visit ChulaVistaCharitableFoundation.org or contact Zaneta Salde Encarnacion, through email at zaneta(at)sdfoundation(dot)org or by phone (619) 814-1328.