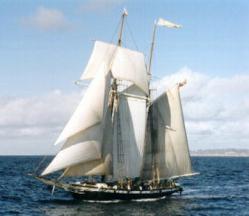 This year's Chula Vista Harbor Days Festival offers a wide variety of entertainment for the entire family.
CHULA VISTA, CA (PRWEB) September 19, 2012
This year's Chula Vista Harbor Days Festival offers a wide variety of entertainment for the entire family. The Maritime Museum of San Diego tall ship Californian and historic yacht Medea will be open for free tours to teach guests about nautical history and offer a look at how maritime life was hundreds of years ago. A bustling wharf market place will line the entrance to the ships. Guests will enjoy music by 12 popular local bands on stage at the California Yacht Marina, a beer garden and wharf-side food court featuring an international blend of food from the islands of the Caribbean and Pacific.
Action sports and power sports enthusiasts will want to the checkout the thunder boats Oh Boy Oberto and Eliminator located near The Galley restaurant. The famous winner of the Baja 1000, McMillan and Norman Motorsports, will be the focus of a Baja 1000 off road racing exhibit. Sweetwater Harley Davidson will show off the latest line of motorcycles and a car show featuring vehicles from the Model A to the latest hybrid will be on display.
The South Bayfront Artists will celebrate Art Month Chula Vista with a special exhibit titled Art on the Waterfront. The third annual juried art show will feature an original art marketplace, chalk art and an array of art activities for all ages. More than 30 artists will be showing and selling their work. Painting, ceramics and other creative activities will be led by the Art Kids of San Diego County, Southwestern College art students and Learning Tools for Global Schools.
This year the Kid Zone returns to Harbor Days where the City of Chula Vista will launch its Playful City Campaign, unveiling the exclusive street signs that have been awarded to Chula Vista as one of only 213 nationwide honored with the recognition. Children will learn the importance of staying active, eating healthy and making the right choices from an early age as they experience outdoor games, contests and arts and crafts.
In addition, the Kid Zone will host an entertainment line-up that is guaranteed to bring the kid out in everyone, with live performances from local artists ranging from the Spanish beats of Mario Eguia, Jazz and Blues of Mark McCann, a visit from Olympian High School Clean-up Crew, the John Goss Band, led by former Chula Vista City Manager John Goss and more.
On Sunday only, Wind Spirit Drum, award winning Native American musicians and the South Bay Aztecs will hold a children's pow-wow with their music, stories, traditional regalia and magic drum.
Other attractions include tours on the bay provided by the famous SEAL land and sea vessel.
Free service from the Old Town Trolley will shuttle attendees to and from parking, the "E" Street trolley station and key locations throughout the bayfront event. Guests are encouraged to bring picnic blankets to enjoy the sights and sounds in the grassy park areas.
Harbor Days thanks the official sponsors and supporters: Port of San Diego and Big Bay, Chula Vista Marina, The Galley, South Bayfront Artists and California Yacht Marina, City of Chula Vista, Allied Waste, AMR, Marine Group, Vulcan Materials Co. and Copy Link.
Event Schedule Chula Vista Harbor Days Festival 2012
Chula Vista Bayside Park
Saturday, September 22 from 10a.m to 5p.m.
Sunday, September 23 from 11a.m. to 4p.m.
ABOUT CHULA VISTA HARBOR DAYS
The Chula Vista Harbor Days festival originated in 1896 as it welcomed to port the Californian. Music concerts and community oriented activities dressed the bayfront every year until 2004 the event went into hiatus due to the economy. In 2010 it came alive again as it prepared to welcome the city's Centennial celebration in 2011. Now Chula Vista Harbor Days prepares to welcome the beginning of a new era with the approval of the Chula Vista Bayfront Master Plan by the California Coastal Commission which will see our Bayfront grow and develop into the world-class tourist destination. For more information on Chula Vista Harbor Days visit http://www.cvharbordays.com.