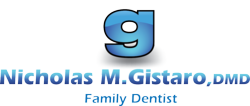 Invisalign clear braces straighten teeth while most people can't even notice! And now with Dr. Gistaro's office the treatment is $500 off.
Chula Vista, CA (PRWEB) May 06, 2013
Premier Chula Vista dentist, Dr. Nicholas Gistaro, is now offering $500 off Invisalign clear braces. The treatment straightens teeth while most people cannot even notice. For more information and scheduling, call 619-719-5483.
Invisalign braces have been revolutionary in cosmetic dentistry, as they are removable for brushing and eating. The braces use clear, plastic aligners that get replaced every couple of weeks by the Invisalign certified dentist. Dr. Nicholas Gistaro is a certified Invisalign dentist San Diego and Chula Vista trusts.
Dr. Gistaro has been a premier dentist in Chula Vista for three decades, and offers comprehensive cosmetic dentistry services including teeth whitening, dental bonding, bridges, tooth colored fillings, veneers and crowns. He also offers periodontic services for gum disease. With over one-third of the US suffering from dental phobia, Dr. Gistaro proudly offers sedation dentistry to reduce anxiety for worry-free treatment.
One great treatment that Dr. Gistaro offers is an in-house lab for denture repair. This way, Dr. Gistaro is able to repair a person's dentures within a few hours.
The Invisalign treatment offer includes a free consultation. Those interested should call 619-719-5483.