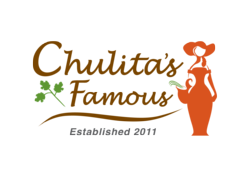 There was no better alternative to Latin seasonings, so we decided to be that alternative.
Brooklyn, NY (PRWEB) February 21, 2012
Introducing Chulita's Famous, a food start-up that offers a healthier, truly all-natural alternative to Latin seasonings. Launched in late 2011, Chulita's Famous quickly introduced two gourmet sofrito recipes and two spice blends for tasty, authentic Latin cooking using only wholesome ingredients.
An aromatic blend of herbs, vegetables and spices, Sofrito is an essential cooking base for Hispanic dishes. Horrified to see what was passed off as "sofrito" in supermarkets, Gloribell Taveras (Co-Founder and President) set out to create a product that looks and tastes like sofrito – because it is actual sofrito.
Chulita's Famous Sofrito Verde and Sofrito con Spices have no added water, thickeners or any artificial preservatives – just all-natural ingredients puréed into a savory seasoning base for everyday cooking. Chulita's Famous sofritos can be found in the refrigerated section at many gourmet specialty stores throughout New York City.
"We knew that we didn't want to add water, food starch, or any other tricks that other Latin food companies add to sofritos. Our spices will never have MSG either," says Gloribell Taveras (a/k/a Chulita). "We were very careful while developing all our products to make sure that they stayed true to our vision for Chulita's. We kept the mantra that good food is real food, and have launched with four products that I'm very proud of."
In addition to the two sofrito recipes, Chulita's Famous also introduced Adobo Sabroso and Sazòn con Sizzle. The spice blends are not overly salty, and yet are packed with flavor. "We couldn't believe how much MSG and other artificial flavor enhancers we were consuming," Gloribell adds. "There was no better alternative to Latin seasonings, so we decided to be that alternative. These spices can be used for Spanish cooking, but also other types of cuisines as well."
For people that want to know how to cook with Chulita's Famous Latin seasonings, the website offers easy recipes for Latin-inspired cooking. The company also encourages people to post their own creations on their Facebook and Twitter pages.
Chulita's Famous is a food start-up based in DUMBO, Brooklyn, NY. For questions, please visit chulitasfamous.com or contact Susana Columna (Co-Founder and VP) at press(at)chulitasfamous(dot)com or 718-285-9343.
###