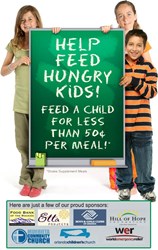 The Church 90 Day Challenge is financial help for churches, in a time when tithes and food bank donations are low because of the economy. - Sandra Clark
Tampa Bay, Florida (PRWEB) November 30, 2013
The charitable, spiritual, and physical unite in the Church 90 Day Challenge by giving faith-based organizations in Tampa Bay an opportunity to impact their local communities by donating healthy food to children and families in need, by fighting obesity through improved nutrition, and by raising funds for additional needs.
ViSalus, the company behind the Body By Vi Challenge, the #1 Weight-Loss and Fitness Challenge in North America, has platforms called The Faith and Fitness Initiative and the Vi Community Challenge under their Vi-Cares philanthropic umbrella. The Vi-Community Challenge allows anyone to donate healthy Vi-Shape® Shakes or Nutra-Cookie™ to disadvantaged kids and families, and then doubles every donation through ViSalus Matched Giving. Working with over 165 food banks and youth programs, as well as disaster relief efforts, the ViSalus Community has donated more than two and a half million shakes and almost one million cookies to at-risk kids and families throughout the United States and Canada.
Project 10 provides additional food bank donations, as ViSalus donates to the charities vetted for donations every time an adult enters to with Project 10. The Body By Vi Challenge Project 10 awards $10,000 to 10 people who lose 10 pounds every week. Every adult who enters to win chooses a food bank or youth program to send a donation of one bag of shake – that's 30 meals to kids in need. With Project 10 Kids, when the adults lose, the kids win.
The ViSalus Dream Team of Tampa Bay has been uniting with churches throughout Florida through the Church 90 Day Challenge, providing a way for churches to generate additional funding for their outreaches, food for their food banks, and encourage a healthy lifestyle for their parishioners. By uniting with the The Faith and Fitness Initiative and the Vi Community Challenge, they are able to not only raise funds by having their congregation take the 90 Day Challenge, every time someone in the congregation loses 10 pounds, a bag of shake is donated to their food bank. It's a win win situation in a time where those donations are needed more than ever.
If you are a Pastor, parishioner, or you are affiliated with a church or faith-based organization, and would like to receive more information about the Church 90 Day Challenge, please contact Sandra Clark for more information at 727-389-7275 or go to http://www.Church90DayChallenge.com.