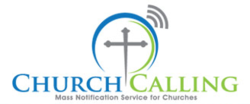 Jupiter, FL (PRWEB) May 24, 2012
Religious groups across the country still rely on the old-fashioned method of spreading news through weekly newsletters that are passed out during service - ChurchCalling.com changes the way churches and religious groups communicate with congregations and followers.
Automated church calls allow religious leaders to reach hundreds to thousands of members in a matter of seconds. Have a prayer request that needs to be sent out? Is the church in need of donations for the less fortunate? Instantly spread the word to a small or large religious group by sending out voice messages and/or text messages using Send Calls and their mass notification service for churches.
"Religion plays a huge role in our society and we want to make it easy for churches and religious groups to communicate with one another" says owner David Batchelor. "Our mass notification service is perfect for small congregations of 20-50 people as well as extremely large churches which have thousands of followers."
Religious leaders and pastors can set up a monthly plan for church calls in which they are able to send out an unlimited amount of voice messages and text messages to a set number of people each month. If church announcements are a little more sporadic, ChurchCalling.com offers credit based plans as well. (One credit is one 30-second message to one recipient – credits never expire.)
It's time to bring churches and religious groups into the 21st century by using ChurchCalling.com to send out church calls and prayer requests to entire congregations in seconds.
About ChurchCalling
ChurchCalling.com was founded in 2012 and has become an extremely efficient resource for religious groups across the United States and Canada. Whether you are the leader of a large church or the pastor of a smaller community church, our service allows you to send out hundreds to hundreds of thousands of church calls, donation requests, church announcements and prayer requests in a matter of seconds.
For more information, please visit http://www.churchcalling.com or call 888.391.3133. You can also email support(at)churchcalling(dot)com for additional information.
###