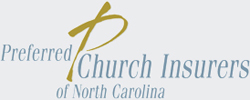 Winston Salem, NC (PRWEB) February 28, 2013
Passenger vans are commonly used by many organizations, including churches, for group outings. These large vehicles pose many safety concerns. Specifically, 15-person passenger vans have come under scrutiny for being among the most dangerous vehicles on the road. Many of these 15-person vans have recently been involved in tragic accidents resulting in death or serious injury.
According to a study by the National Highway Traffic and Safety Administration, passenger vans carrying 10 people or more have a 35.4 percent risk of rollover. By comparison, passenger cars have a rollover risk of less than 10 percent. The death rate for occupants in a 15-person van is higher than for all other passenger vehicles combined.
Preferred Church Insurers of North Carolina specializes in all types of property, casualty and employment insurance. Preferred Church Insurers has helped several organizations that possess a 15-person van. Their experience with these organizations has helped them come up with some key safety practices for owning a 15-person van.
"It's important for churches to understand the risk they expose themselves to in regards to transporting members in these types of vehicles," said Preferred Church Insurers' Keith Googe.
Those who own a 15-person van should require drivers to have a commercial driver's license or pass a defensive driving course in order to operate the van. This course must meet minimum requirements that include four hours of instruction time, testing with written results and driver certification.
Preferred Church Insurers of North Carolina also recommends carefully screening all drivers, doing pre- and post-trip inspections of vehicles, communicating safe procedures to all occupants and require seatbelt use by all passengers.
Safety items are also recommended by Preferred Church Insurers of North Carolina to be carried on board the vehicle at all times. These items include a cell phone for emergency calls, a first-aid kit for accidents, and a fire extinguisher.
These 15-person vans are at greater risk for rollover accidents because of the number of passengers inside. Preferred Church Insurers of North Carolina says organizations can prevent these rollovers by buying high-quality tires, keeping the gas tank as full as possible, driving conservatively, filling the front seats first, never loading items on the roof and removing the backseat.
Because of the size of these vehicles and increased risk of injury in an accident, Preferred Church Insurers of North Carolina recommends not transporting children to and from school using these vans.
It is the responsibility of every organization to insure the safety of the passengers it transports. Reducing the possibility of crashes and injury should be foremost in the mind of every organization.
About the company:
Preferred Church Insurers of North Carolina was founded in 1996 to meet the needs of churches, non-profit organizations, and private and parochial schools across the Tar Heel State. The company specializes in church insurance, liability, property, casualty, employment insurances and employee benefits. Preferred Church Insurers of North Carolina maintains long-term relationships with their clients and continually evaluates insurance customer's needs to ensure that their customers remain adequately protected as each customer's businesses and insurance needs evolve. They help customers determine what type and amount of insurance coverage needed - whether that customer is responsible for a 200 student private school or a church of 10,000 members. For more information, please visit their website at http://www.ncchurchinsurers.com.