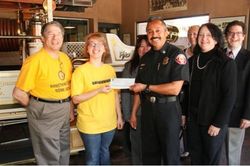 all you can eat pancake and egg breakfast.
Los Angeles, CA (PRWEB) February 17, 2009
The Church of Scientology in Pasadena, California, responded to President Barack Obama's "Day of Service" challenge for Martin Luther King Day by honoring Pasadena Fire Department Station 31 with a check for almost $1,200. The money will help fund the Pasadena Emergency Response Training program (P.E.R.T.).
Scientology Volunteer Ministers, the Church's Boys Scout troop stationed at Sunland/Tujunga and the Women's Auxiliary of the Pasadena Church of Scientology raised funds for the cause by cooking up an "all you can eat pancake and egg breakfast."
Pasadena Scientology Volunteer Ministers who recently graduated from the P.E.R.T. program presented the check to Pasadena Fire Operations Captain Danny Serno. Captain Serno remarked, "This money means a lot to us, especially in this crucial time."
Ms. Eden Stein, President of the Church of Scientology of Pasadena, noted, "Scientology founder L. Ron Hubbard once said, 'A being is as valuable as he can serve others.' It's all about helping people. We are happy and proud to help the Fire Department. They are our heroes."
The Volunteer Ministers program is a community service organization dedicated to disaster relief and emergency response. To learn more the Scientology Volunteer Ministers, visit the website at volunteerministers.org.
###