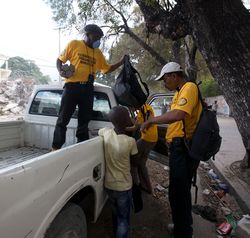 New York (Vocus) January 23, 2010
Doctors and nurses from the Association of Haitian Physicians Abroad and the Elizabeth Marie Pierre Centre for Humanity, Inc., Emergency Medical Technicians (EMTs) from the Bedford-Stuyvesant Volunteer Ambulance Corps, and Scientology Volunteer Ministers leave from JFK Airport for Port-au-Prince on Saturday. This is the third Scientology-sponsored charter flight taking medical teams to Haiti.
The Church has transported 251 MDs, nurses, EMTs and rescue workers to Haiti this week and 100 disaster response trained Volunteer Ministers. The Volunteer Ministers provide support services for the medical and search and rescue personnel to enable them to do their work.
Miami-based Prudential Aviation donated the use of the aircraft for this and the two previous charter flights, and the International Association of Scientologists provided funds for the fuel and covered all other costs.
The Scientology Volunteer Ministers Corps is an embracive program of the Church of Scientology to provide community service, disaster relief and emergency response. Created more than 30 years ago by Scientology Founder L. Ron Hubbard, the program has expanded to 203,000 Volunteer Ministers worldwide who have served at 145 worst-case disaster sites, including Ground Zero after 9/11, the Southeast Asia tsunami and Hurricane Katrina.
WHO: Medical professionals, EMTs and Scientology Volunteer Ministers
WHAT: New York-area disaster response team leaving for Haiti to provide aid to the victims of the earthquake
WHERE: Inside JFK Terminal 4, 4th floor, Departures Level, near Virgin Atlantic
WHEN: Saturday, January 23, 8:00-9:30 a.m.
RSVP: Media should RSVP to cheryl_duncan(at)tmo(dot)blackberry(dot)net or 917-981-1842
Contact:
Cheryl Duncan
917-981-1842
cheryl_duncan(at)tmo(dot)blackberry(dot)net
# # #